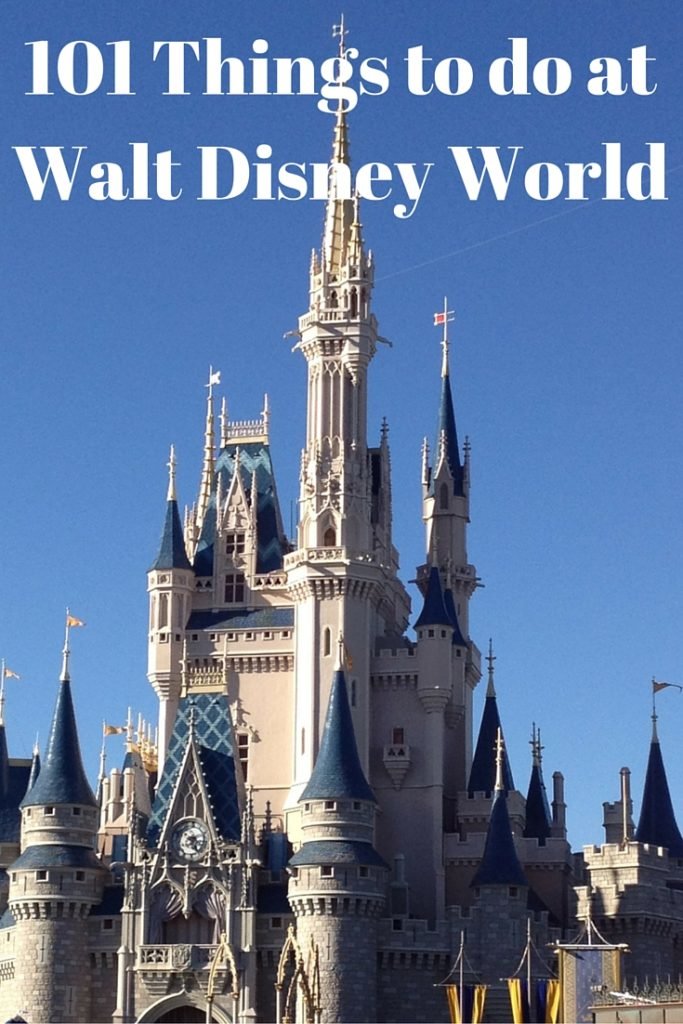 Recently I shared a post about 101 Things to do at The Disneyland Resort. I immediately wanted to write the same type of post for Walt Disney World. With four theme parks, two water parks, Disney Springs and an incredible amount of resorts there is something for all ages to enjoy. Of course, some of the best things to do are in the parks. However, there is also some great fun to be had throughout the whole property. Here's my list of 101 Things to help you decide what to do at Walt Disney World:
Magic Kingdom
1. Cinderella's Royal Table
Did you know that you can eat with Disney princesses inside Cinderella's castle?
2. Mickey's Not-So-Scary Halloween Party
During select nights from September through November you can trick or treat throughout the park. Plus, you get to dress up & see the characters dress up.
3. Mickey's Very Merry Christmas Party
On select nights in November & December you can celebrate the Christmas season at the Magic Kingdom. Enjoy unlimited cookies & hot chocolate as you experience holiday offerings.
4. Monsters, Inc. Laugh Floor
Join Mike Wazowski for an interactive comedy experience.
5. Tony's Town Square
This is one of my favorite places to eat at the Magic Kingdom. The Lady & The Tramp decor is adorable. Their desserts are incredible and presented with a Lady & The Tramp made out of chocolate dust.
6. Main Street Electrical Parade
This parade is a Disney classic and watching it brings back so many memories for me.
7. Be Our Guest
Dining at Be Our Guest is truly a fun and special experience. Did you know that you can try the grey stuff?
8. Disney's The Magic Behind our Steam Trains Tour
While I have not taken this tour myself I know how special it is for train enthusiasts.
9. Pirates & Pals Fireworks Voyage
This pirated themed boat ride includes a great view of the fireworks from the Seven Seas Lagoon in front of the Magic Kingdom
10. Night of Joy
This Christian musical festival takes place every September in the park.
11. Splash Mountain
It's good to know before you ride that you will get wet on this one. Just make sure to protect your electronics. Ponchos are always a good idea.
12. Space Mountain
Indoor roller coaster that is always a popular ride.
13. Seven Dwarfs Mine Train
This is the newest attraction at the Magic Kingdom. I have not gotten to ride it yet but I've heard it is really fun.
14. Haunted Mansion
A classic Disney attraction that is a must do in my opinion.
15. Big Thunder Mountain
This is one roller coaster where sitting in the back is better than the front.
16. Peter Pan's Flight
This popular attraction is cute & fun.
17. Jungle Cruise
Do you love a good joke? This attraction is perfect for all ages.
18. Mickey's PhilharMagic
This 4d movie is fun and entertaining.
19. Pirates of the Caribbean
Another classic Disney attraction. It is a water ride so don't be surprised if you get wet.
20. Tomorrowland Transit Authority People Mover
This is a fun way to see the Tomorrowland Attractions from a different point of view.
21. Wishes
If you can stay late enough the fireworks are always magical.
22. Disney Festival of Fantasy Parade
If you don't like parades take advantage of shorter wait times during the parade. If you do like parades I think this one is worth watching.
23. Buzz Lightyear Astro Blasters
Remember aim for triangles, diamonds, squares and circles in that order.
24. Enchanted Storytime with Belle
Little kids really love this experience.
25. Jungle Skipper Canteen
This is a new Jungle Cruise themed restaurant.
26. Dole Whip
Pineapple soft serve is delicious!
27. Carousel of Progress
This attraction is geared towards an older crowd. However, I'm in my 20's and I really appreciate the history in the attraction.
28. Astro Orbitor
This attraction is similar to Dumbo only higher up.
29. Dumbo the Flying Elephant
I have yet to meet a child who doesn't like riding Dumbo.
30. "it's a small world"
Yes, the song can get annoying but this is good ride to check out.
32. Winnie the Pooh
The interactive queue is almost as cute as the ride.
33. Celebrate the Magic
Don't miss the fun display that appears on Cinderella's castle at night.
34. Check out the Shops
I love the Holiday shop in Liberty Square
35. The Hall of Presidents
Some might find this boring but it is a great history lesson.
36. Watch the taping of the Christmas parade
The taping of the Christmas parade for TV typically happens in November. Celebrities like Justin Bieber and Mariah Carey have performed in previous years.
37. Meet the characters
Throughout the park you can visit characters like Mickey Mouse, Donald Duck & more.
EPCOT
38. Check out the music groups that play in the World Showcase
Multiple times a year bands play shows in the theatre in front of the American pavilion. Groups like Pablo Cruise, Wilson Phillips and Plain White T's have all played here.
39. Food & Wine Festival
This is a great way to try new things. There are stations set up throughout the World Showcase with food & wine options.
40. International Flower & Garden Festival
This is one of the most beautiful times of year in EPCOT. It is really worth checking out.
41. Candlelight Processional
Celebrities like Neil Patrick Harris tell the Christmas story while a choir sings carols.
42. Living With the Land
A lot of people really enjoy this boat ride that takes you through some greenhouses. It is not very exciting but it is relaxing.
43. Behind the Seeds Tour
You can tour the greenhouses from Living With the Land. The tour is under $12 per person and seems to be well liked.
44. Mission: Space
If you get motion sickness or are clatsraphobic this attraction is not a good one to go on. There are two different sides to the motion simulator. One is more intense than the other. Make sure you choose the right one.
45. Test Track
This attraction showcases all that cars go through before they can be sold. The end of the ride is the best part.
46. Soarin'
The line for this attraction is always long so make sure to do it earlier in the day. Feel like you are hang gliding around the world.
47. The Seas with Nemo and Friends
If you like to see real fish along with Nemo & his friends this ride can be fun. The building is really cool to check out.
48. Coral Reef
Coral Reef is a restaurant inside of The Seas building. You can eat next to a tank with fish and sharks. It's as close to eating Under the Sea as you can get.
49. Spaceship Earth
Spaceship Earth is the big golf ball you see at the entrance. The attraction itself is not too exciting but I find it relaxing.
50. Illuminations Reflections of Earth
The nighttime spectacular includes fireworks and is worth checking out.
51. Disney Vacation Club Member Lounge
Above the Journey Into Imagination attraction is a member exclusive lounge for you to relax.
52. Explore the different countries at the World Showcase
Each country has something unique to see. Plus, the food at the various countries is awesome.
Hollywood Studios
53. Sci-Fi Dine-In Theatre Restaurant
As a movie lover this is one of the coolest restaurants I've ever eaten at. Your table is inside of a car while you watch a movie on the screen. It is a really fun experience.
54. Star Wars Weekend
The annual event was not held in 2016 due to construction but hopefully it will return in the future. This is a great way to purchase unique Star Wars merchandise and learn fun information.
55. Rock 'n' Roller Coaster Starring Aerosmith
This is one of the fastest rides throughout Walt Disney World. It is a good thrill ride.
56. Hollywood Tower of Terror
This free fall attraction is always a fun ride.
57. Toy Story Midway Mania
This attraction is incredibly popular and very fun.
58. The Great Movie Ride
This attraction highlights popular and famous movies from over the years.
59. Star Tours® The Adventure Continues
This motion simulator attraction is really fun for fans of the famous movie series.
60. The Hollywood Brown Derby
The Brown Derby used to be a famous restaurant in Hollywood, California. This is very similar to the original. It is a fun and upscale restaurant.
61. Fantasmic!
This nighttime spectacular is really something special to see.
62. Star Wars: A Galatic Spectacular
This new firework show looks like it is a good one to see.
63. Jedi Training Academy
Children can learn how to become a Jedi and learn to use lightsabers.
64. Indiana Jones Epic Stunt Spectacular
As far as I'm concerned this is the best show in the park.
Disney's Animal Kingdom
65. Kilimanjaro Safaris
This is such a fantastic way to see Giraffe's, lions, rhinos and more.
66. Wild Africa Trek
This guided tour gives you an up close look at the animals you see on the Safaris.
67. Expedition Everest
This roller coaster goes backwards and forwards. It is a fun one to ride.
68. Kail River Rapids
It is almost always hot at Animal Kingdom so this ride is the best way to cool off.
69. The Jungle Book Alive with Magic
This is the first nighttime spectacular to take place inside the park.
70. Dinosaur
Take a ride back to the time of the Dinosaurs.
71. Festival of the Lion King
This musical show is one of the best on the whole Walt Disney World property. It is full of entertainment.
72. Finding Nemo – The Musical
Enjoy the air conditioning while you watch this show about Nemo.
73. Conservation Station
Take a train ride to see characters like Pocahontas and have some fun.
Disney Springs
74. Characters in Flight
You can ride this tethered hot air balloon for a great view of Walt Disney World.
75. Disney Quest
I'm sad to share that this attraction is closing later in 2016. It is a fun building full of virtual reality experiences.
76. La Nouba
The Cirque du Soleil show is at Disney Springs year round.
77. AMC Dine-In Theatres
Want to catch a movie? You can have food delivered to your seat while you watch a new release.
78. House of Blues
You can see performers like Avril Lavigne at the House of Blues.
79. Splittsville
This upscale bowling experience is quite fun. You can get food & drinks to enjoy at a table with you bowl with friends. This is the most unique and enjoyable bowling alley that I've been to.
80. World of Disney
This is the biggest store on Walt Disney World property. It is full of great merchandise and definitely worth checking out.
Blizzard Beach
81. This winter themed water park is so much fun. If you're brave enough you can ride a ski lift to the top of the park to take a plunge back to the bottom.
Typhoon Lagoon
82. I also highly recommend checking out this water park too. Not only is it full of fun water rides but you can also learn to surf.
83. Swim with Sharks & Stingrays
In addition to the wave pool & lazy river you can go and swim with sharks and stingrays.
Disney's BoardWalk
84. Jellyrolls
This dueling piano bar is the thing I miss the most from Walt Disney World. If you love live music and like to sing along this place is a must visit. Open every night from 7pm-2am. The cover charge used to be $10 but I do not know the current price.
85. AbracadaBar
This magic themed bar is new and looks really cool.
86. Take a surrey ride
You can rent a surrey to ride around the BoardWalk. My family did this back in 2003 and we had a lot of fun with it.
87. Take a boat ride
You can ride the friendship boats to EPCOT & Hollywood Studios. You don't have to get off the boat and go to the parks if you don't want to.
Contemporary Resort
88. Watch the fireworks from the California Grill
This is a great place for dinner with a fabulous view.
Disney's Fort Wilderness
89. Chip 'N' Dales Campfire Sing-a-long
Roast marshmallows the Disney way with these two characters.
Yacht & Beach Club
90. Beaches & Cream Soda Shop
This is the best place to go for burgers and ice cream. The kitchen sink dessert is legendary.
Polynesian
91. Trader Sams Grog Grotto
This is a fun place to go for drinks and appetizers.
Disney's Grand Floridian
92. Enjoy a Disney Princess Tea Party
This experience seems like a very special and delicious one.
Other
93. Fantasia Gardens & Miniature Golf
Disney themed mini golf is a fun family activity.
94. Winter Summerland Miniature Golf
You can choose between the winter or summer themed course. They are both really fun.
95. Regular Disney Golf Course
There are three courses at the Grand Floridian and one at Saratoga Springs.
96. Ride the Monorail
This is a great way to get from the parking lot to Magic Kingdom. Plus, you can ride back and forth between Magic Kingdom and EPCOT
97. Atlanta Braves Spring Training
Watch the baseball team at the ESPN Wide World of Sports
98. Explore the Resorts
With a large number of hotels you can stay busy just checking them out.
99. Enjoy the pools
If you're staying at a Disney hotel be sure to have some fun at the pools.
100. Pin trade
If you collect Disney pins you might want to check out the pins cast members have. You can trade if you like theirs better.
101. Make lasting family memories
Find something that everyone will like to do so that you can stay together as much as possible. Take the time to enjoy this experience and make some memories.
What do you like to do at Walt Disney World?