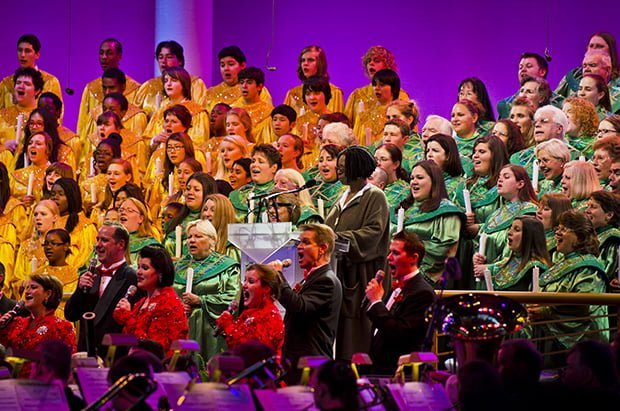 This picture was taken by my good friend in 2011 when we saw Neil Patrick Harris narrating the Candlelight Processional. The Candlelight Processional is a tradition that takes place every year in the World Showcase in EPCOT at Walt Disney World. Inside Disneyland Park, the Candlelight Processional takes place in front of the train station on Main Street U.S.A. At Walt Disney World it takes place every night between November 27th and December 30th with several different narrators. To my knowledge the only time that Disneyland has ever had more than two days of the Candlelight Processional was in 2012 when it was hosted for twenty nights. The Candlelight Processional typically takes place the first weekend in December at The Disneyland Resort.
The very first Candlelight Processional was held at Disneyland Park in 1958 and continues to be loved by the many Guests who visit both The Disneyland Resort and Walt Disney World. A celebrity narrates the show telling the Christmas story and is joined by local choirs and Disney cast members. Previous narrators include Cary Grant, Kurt Russell, James Earl Jones, Dick Van Dyke and so many other incredible people. It was always a dream of mine to be in the choir when I worked at Disney but my schedule never worked out right for me to be free for the rehearsals. The show is incredibly beautiful and a really fun experience to share with your family and friends during the holiday season.


I had to work the day that Neil Patrick Harris narrated the show but I was able to get off thirty minutes before it started. Luckily my amazing friends saved a spot for me and I was able to experience it for myself. As a Christian I enjoy all aspects of the show and I can tell you that even non Christians really like it as well. If you love to hear Christmas songs and would like to see a celebrity this is a great experience to have. I was working on Main Street at Disneyland Park in 2012 when John Stamos hosted two of the twenty nights of Candlelight. As a huge Uncle Jesse fan I was so excited about seeing John and listening to him read the Christmas story.
The best way to attend the Candlelight Processional at The Disneyland Resort is to get a spot in Town Square early! The seats are typically saved for invited guests and Club 33 members. However, standing room is available on a first come first serve basis. There are typically two shows each night so my recommendation would be to try and go to the second show because you won't have to wait as long. You want to be around Main Street for the first show and once that is over slip into the standing room only area as people are exiting. As of now no announcement has been made for who the narrator will be but it will be taking place December 2nd and 3rd.
At Walt Disney World the Candlelight Processional takes place in an amphitheatre in front of the American Adventure in EPCOT. If you would like guaranteed seating you can purchase a Candlelight Dinner Package which includes a non alcoholic drink, appetizer, main course, and dessert. There are several restaurant options to choose from. Depending on your budget this could be a great option. The other alternative is to wait in a line for the first come first serve section and hope you get in. As I mentioned for Disneyland I would wait for a later show because you typically wait for less time than you would for the first show. Please note that there will be three showings everyday.
Park admission is required in order to experience the Candlelight Processional but if you will already be at the parks this is a wonderful addition to a magical day. Going to see Neil Patrick Harris in 2011 is a memory that I will treasure for a very long time. For me the holiday season, which is also includes my birthday, is such a special time of year. I love finding unique and cool experiences to enhance the time of year that I look forward to. Have you ever seen Disney's Candlelight Processional? If so who was the narrator? Let me know in the comments below.
Are you planning on visiting The Disneyland Resort soon? My Disneyland Travel Guide can help make your planning process easier. You can find out more about my guide here.