Attention wizards & witches, there is a new nighttime show at Hogwarts. Starting June 23rd guests at Universal Studios Hollywood can watch a five minute show inside the Wizarding World of Harry Potter. Last week I was able to see the show as part of a special preview event for annual pass holders. Some of you may have seen a bit of the show when I live streamed it on my instagram.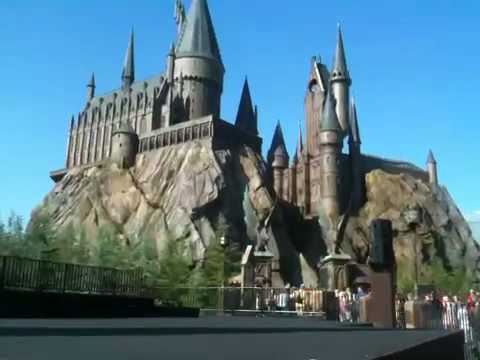 Where is the best place to view the show? I recommend being in the front of the viewing section even with Ron's car. Though as long as you're in the roped off viewing area I really can't imagine that there would be a bad view. However, if you're on the shorter side like I am tall people can ruin your chance to see the show and/or take good pictures. Which is why I recommend being in the front of the viewing section.

The show is mainly about the four houses that make up Hogwarts School of Witchcraft and Wizardry. Each of the houses gets their own moment to shine with projections that appear on the exterior of the castle. The only part that could potentially be scary for children is when the snake appears for Slytherin house. However, all of the children that were near me handled the show fine so don't be afraid to watch the show with them. My favorite part of the show is the ending when the castle is lit up beautifully.
If the preview is similar to how the show will be run once it is open to the public it should run about every fifteen minutes from 8:40 until the park closes. I'll be sure to update this post once I can get more information on that. The only downside to the show is that it is a bit of a nightmare trying to exit after the show ends. To avoid the crowd trying to leave Hogsmeade all at once I recommend using your time to ride Flight of the Hippogriff or Harry Potter and the Forbidden Journey.