This shop has been compensated by Collective Bias, Inc. and its advertiser. All opinions are mine alone. #GreatTasteTourney #CollectiveBias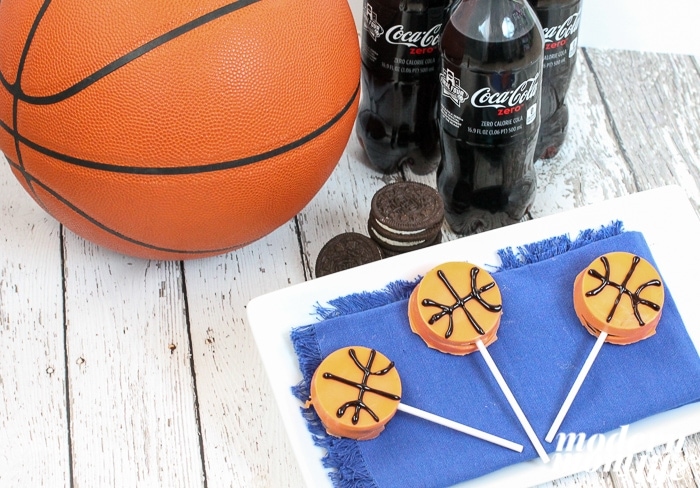 Now that March is here basketball seems to be on the tongues of sports fans as The Big Tournament is about to begin. I loved playing basketball when I was younger and I love watching basketball both on TV or in person. As I have gotten older I have started hosting parties whenever I get the chance. If there is something big happening on TV I love having friends over to watch it with me. My basketball game day parties are made a success with the help of Coca-Cola Zero™ and OREO. Not only are they favorites of both my guests and myself, but they are perfect snacks for a basketball party. When it comes to hosting I prefer to avoid setting out just any snacks. If possible I like to decorate my table and it is a bonus when the snacks that I set out serve as edible decoration. Themed snacks are one of my favorite parts about hosting a party.
I am a self proclaimed cookie monster and without a doubt my favorite cookie is OREO. So these easy DIY OREO basketball cookies were perfect for me. Have you ever tried the white chocolate covered ones that are only sold during the holidays? As I was enjoying some a while ago it dawned on me that if I got some orange candy melts from a local craft store to dip the OREOs in I could create edible basketballs. I also picked up black icing so that I could add the lines to really give the look of a basketball. Not to brag, but I think the look of the basketball cookies and the taste are a slam dunk! Plus it doesn't require any baking on your part and is a kid friendly activity.
What will you need to make basketball OREOs?
1 Box of OREOs – I chose double stuf
1 bag Wilton candy melts orange
1 tube of black icing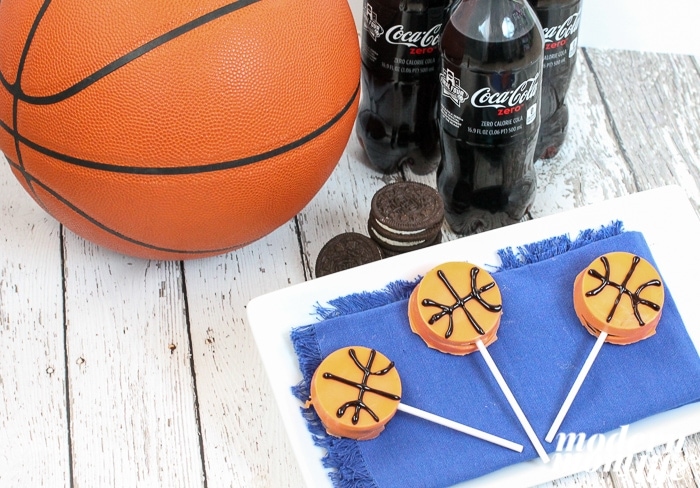 First you will need to place the candy melts in a microwave safe bowl. I always use a glass bowl for this because it makes it easier to see how the candy is melting. Following the instructions on the bag you will want to heat the candy melts on 50% power for 60 seconds in the microwave. Then in 30 second intervals stir until the pieces have been completely melted. The candy melts harden rather quickly so I would recommend being prepared to dip the OREOs in as soon as possible. I put the cookies in the bowl using my hands but drizzled on the candy melts using a spoon and lifted it out of the bowl with the spoon.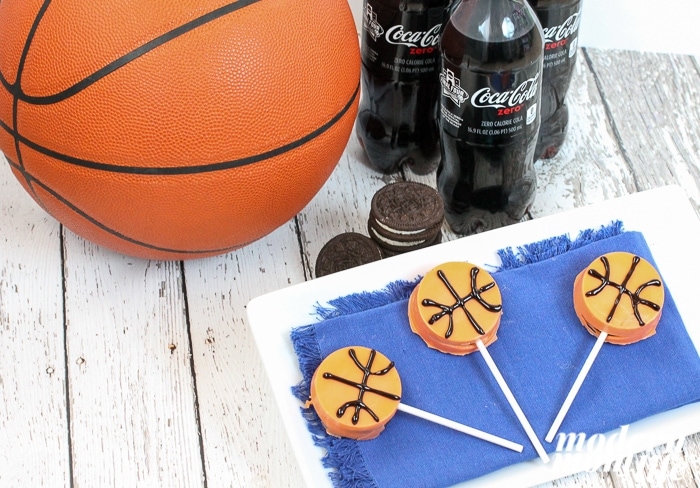 I placed them on a cookie sheet after they had been dipped so that the candy coating would harden. Once the candy melts had hardened I tried to carefully draw on lines to make the OREOs resemble a basketball. They may not have all turned out perfect but I had fun and the taste is worth the effort. The icing seemed to have a mind of its own and didn't always want to move the way I wanted it to. I made a semi circle going from the top of the cookie to the bottom.
Then I made a u at the top of the cookie as well as the bottom. I finished by placing a line in the middle of the cookie. If you have any left over candy melts in your bowl you will want to clean it sooner than later. I got distracted taking pictures and came back to find the leftover melts stuck to my glass bowl. It wasn't the end of the world since some hot water did the trick but I would still encourage you to clean it as soon as you can.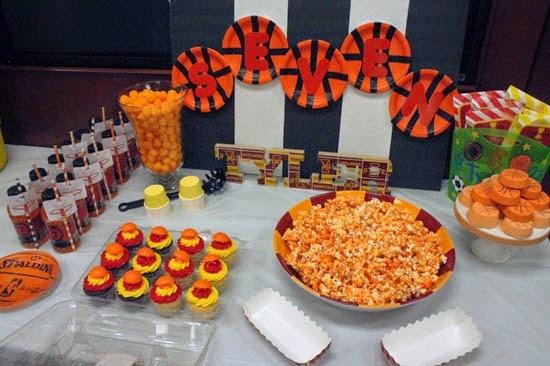 I was so excited when I found basketball themed cans of Coke Zero. These cans are decoration on their own thanks to the basketball design. However, if you are like me you always like thinking of extra ways to theme your snacks. I started brainstorming what I could add to the cans and I came up with the idea to make basketball jerseys to stick on the cans. If you have little ones you can cut out jerseys for them to color and decorate. Feeling like going the extra mile? You can also have them color a basketball to stick on the straw.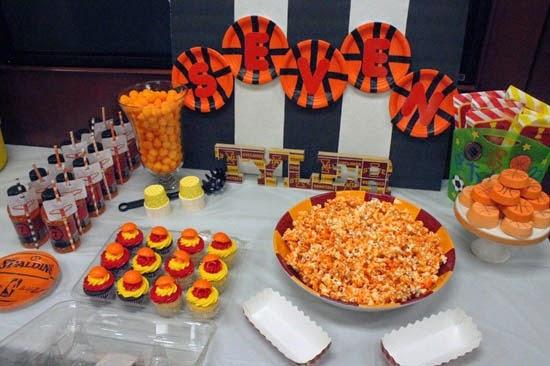 What do you need to make basketball jerseys?
1 12 pack 12 oz Coke Zero cans
Paper
Mod podge
Scissors
Markers, Sharpies, Colored Pencils or Crayons
What do you need to make basketball straws?
1 pack plastic straws
Paper
Scissors
Markers
The first thing I did to make the jerseys was measure the length of the Coke Zero can. I measured from the top of the nutrition box to the bottom of the barcode on the can which was four inches long. I then decided to not make the width more than two inches. While I am not the best artist I did chose to create the jerseys by hand but you can print templates off the internet if you wish. I used a variety of colors and numbers but you can also pick the colors based off of a team that you are rooting for. If you know what team each one of your friends or family members like you can personalize their jersey with their team color or favorite players number.
At first I thought about taping the jerseys on the cans but mod podge turned out to be the best option. If you aren't familiar with mod podge it is a clear glue. I put a few small dots of mod lodge on the cans to help hold the jersey in place. Then I put some mod podge on one of my fingers and outlined the jersey helping it stick to the can. The jerseys stayed on the can perfectly! To make the basketballs for the straws I drew a circle with a square above and below it. You will want to make the space inside the squares big enough to punch a hole. Once I cut out the basketball and the squares in one piece I used a hole punch so that I could slide it onto a straw.
I found both the basketball Coke Zero cans and double stuf OREOs at my local Albertsons.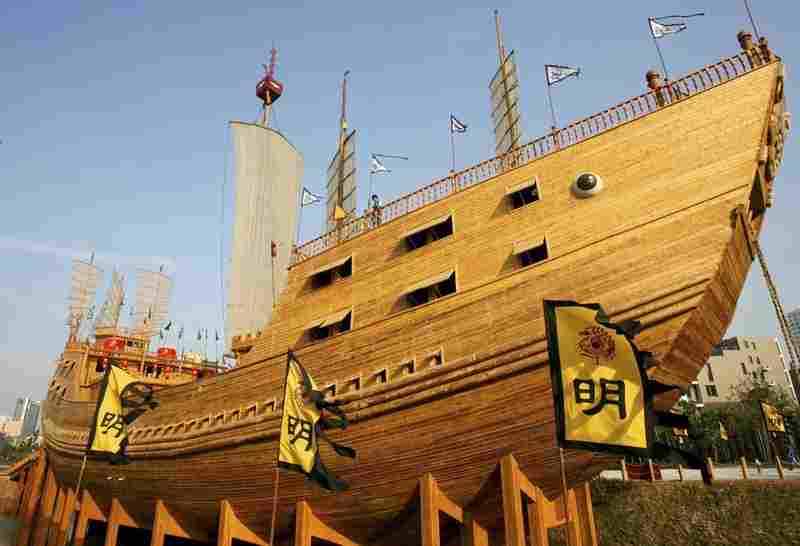 I hope that this gives you some ideas for basketball themed snacks. Make sure to visit cokeplaytowin.com/tastethemadness to win NCAA prizes.
Mondelēz International and Coca-Cola are Corporate Champion and Partners of the NCAA.
NCAA and Taste the Madness are trademarks of the National Collegiate Athletic Association.
© Mondelēz International group © Coca-Cola Zero is a registered trademark of the Coca-Cola Company.