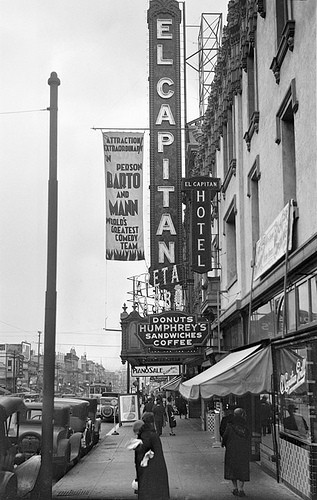 It is no secret to anyone who knows me well that I love Full House. Because of my love for Full House I am always interested in going to an event where someone from the cast will make an appearance. Scott Weinger, who played DJ Tanner's boyfriend Steve on Full House, provided the voice of the main character for a popular movie called Aladdin. Last month at the D23 convention in Anaheim, CA Scott and other people who were a part of the movie did a panel where they spoke about the movie. I did not attend the D23 convention and I was sad when I found out that Scott was there because I would have loved to see him.
I love The El Capitan Theatre in Hollywood. The theatre is beautiful and the experience you have there is unlike any other theatre that I have ever been to. They always do something special either during or before the movie which makes it very fun. When my mom and I saw Frozen there they made it snow during Let It Go which was very magical. Previously for The Muppets Most Wanted Kermit and Miss Piggy came out and sang a few songs before the movie started. Those are just a few examples of how they go above and beyond the normal movie experience.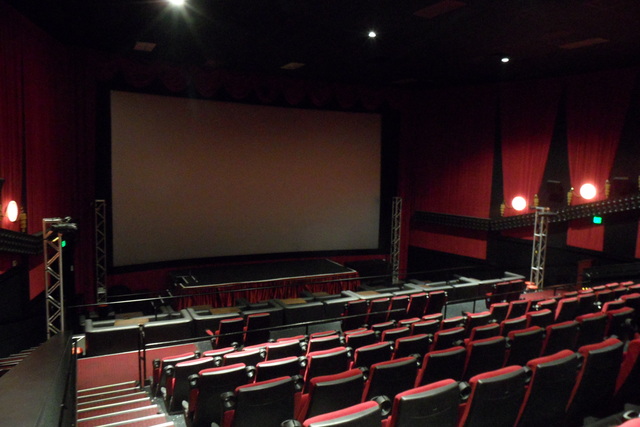 They also host special events that include seeing cast members from certain movies they are showing. Some events include a costume contest and different things that are perfect for super fans. I follow the theatre on Facebook and Twitter so that I can stay up to date on any upcoming events. I found out last month that they would be showing Aladdin for a few weeks in September and would have an appearance by the voice of Aladdin Scott Weigner on opening night. Well Scott ended up working on Fuller House on opening night so Brad Kane who provided the singing voice for Aladdin showed up. During the day anyone could show up to audition to sing the part of Jasmine on stage with Brad. I would have loved to have sang A Whole New World with Brad but for me seeing Scott was more important.
Scott's appearance got moved to Friday and I really wanted to see Steve from Full House so I found discounted tickets through Goldstar. The tickets at El Capitan can be expensive but I found the tickets for the event for $11.50 including the service fee which I thought was a pretty good price. When you go to to see movies at El Capitan the best place to park is across the street underneath the Loews hotel. You can get your parking validated at the theatre and if you return to your car straightaway you will owe $2 which is not too bad for parking in Hollywood. When I got there it was about twenty minutes before it was set to start and the organ player was doing a fabulous job of playing some of the most popular Disney songs and I was so thrilled that he didn't play any Frozen songs.
At 7:00pm Scott was introduced and he came out and talked a bit about working on Aladdin. I recorded him and his whole speech was under three minutes and then he left. Make sure to check the bottom of the post for a link to the video on youtube. It was really great to see him but I had been under the impression that there would be a q&a or something a bit longer so for me a it was a disappointment. I drove for an hour and a half to come see him and I didn't really care too much about seeing the movie. While it was really great to see him and hear what he had to say I was sitting there thinking wait is that it?
I go to a lot of movie screenings where members of the cast show up to talk about it and I am use to it being a lengthier discussion. After Scott left we saw a preview for The Good Dinosaur and then a Pixar short that was only being shown for a week. It was by far the worst Pixar short that I had seen and was a waste of time. Once the short was over the Genie made an appearance and danced on stage to Friend Like Me. The biggest annoyance during the movie was how many children spoke to their parents in loud voices during the majority of the movie. It was the first time that I've seen a movie there with so many children in the audience and not that I have anything against children but wow they were loud!
During the time that Aladdin is playing at The El Capitan theatre breakfast with the Genie is available on select days at 8:30am before the 10:00am showing. You might also be interested in taking a tour of the theatre which I would highly recommend if you cannot fit a movie into your schedule. Connected to the theatre is a Disney store which has a Ghirardelli Soda Fountain & Chocolate Shop.
Have you been to a cool event at El Capitan?
To watch Scott Weigner talk about Aladdin click here: https://www.youtube.com/watch?v=A1w5jqQfkmA
El Capitan Twitter: https://twitter.com/ElCapitanThtre
El Capitan Facebook page: https://www.facebook.com/ElCapitanTheatre