This post contains affiliate links. You can read my disclosure policy here.
One of my favorite things to do is to go to the movies. I love finding movie theatres that make my experience as great as possible. With the El Capitan Theatre Disney creates a magical experience for those of us who love movies and Disney. El Capitan is one of the grand movie palaces that was built in 1926 and is full of history.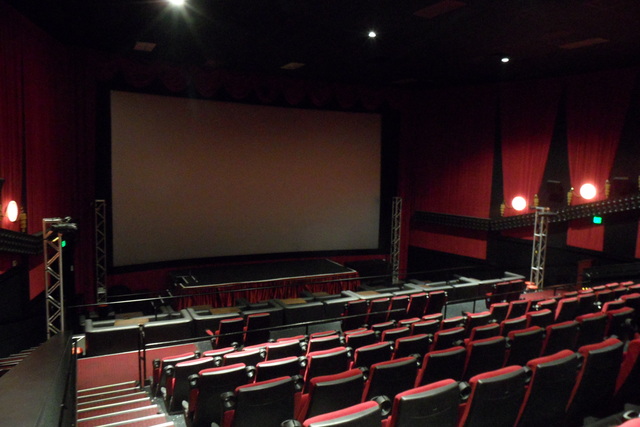 Before my first visit I was not aware of the special touches that they add to make it a memorable experience. My first time to the theatre was to see Beauty and the Beast in 3d. My mom and I went to see Wreck It Ralph. Before the movie they invited children up on stage to play a game that ended with Ralph appearing on the stage. My mom and I also went to see Frozen and while nothing happened before the show during Let It Go it snowed in the movie theatre. On the bottom level they have a mini museum where they showcase props from movies that have been shown at the theatre and you might even get to see some special old Hollywood type pictures.
When you purchase your ticket you have an option of a general admission ticket or a VIP ticket. VIP tickets include a reserved seat, popcorn and a drink so it might be the best deal for you depending on what you want when you go. For Beauty and the Beast Belle magically appeared before the movie to introduce it. It is always a fun surprise to see what special touch El Capitan will have during the movie.
Every few months the El Capitan Theatre Hollywood hosts a throwback movie night. Sometimes cast members and/or crew members will come for these special events. I went to a special event for Aladdin a few years ago. Scott Weigner from Fuller House who voiced Aladdin came to introduce the movie.
In a hurry? You can find discounted tickets to movies at El Capitan through Goldstar.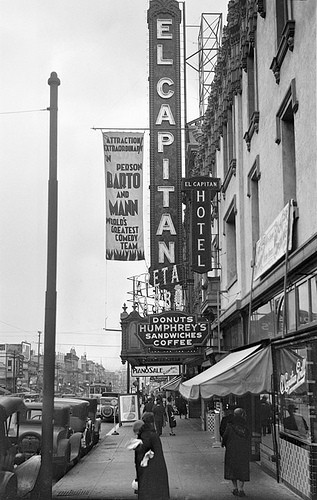 For most movies if you arrive early enough there will be someone playing an organ who does a wonderful job providing entertainment and creating a fun atmosphere. Last year I scored free tickets to see Muppets Most Wanted and I thought it was adorable that Kermit the Frog and Miss Piggy arrived on the stage to perform for the crowd before the movie.
When Brave was out as well as some other movies there was an option to have breakfast with Merida before viewing the movie. When this offer is available it is on Saturday so if you are in the area and are unable to take your children to Disneyland taking them to the movies and to breakfast with the character might be a great and fun alternative. Attached to the theatre is a Disney/Ghirardelli Soda shop with cute Disney merchandise as well as a delicious ice cream. On occasion you can get a delicious dessert that will come with a limited edition pin so for Disney pin collectors that might be a winning dessert for you. If you have Facebook I encourage you to like their page so you can find out about their events and also be sure to check out our upcoming events page as I will list their events as well. If you park underneath the Loews Hotel across the street, which I would recommend, you can get your parking validated at the theatre and will pay $2 for the time you spent at the movie.
While there is no guarantee, almost every movie that plays at El Capitan will have discounted tickets on sites like GoldStar, Groupon, or LivingSocial. So search for a discount before you purchase your ticket. Every now and then you can find free tickets to a screening of a movie on the morning it is released at 6am. Keep an eye out on Facebook and Twitter for movie and concession deals offered by El Capitan. Oh and for Disneyland lovers make sure to notice the Disneyland Walk of Fame star in front of the Soda Shop. And if you do not have time to see a movie you can take a tour.

Interested in seeing other Disney sites near Hollywood? Check out my post on a Guide to LA For Disney Fans.