This post contains affiliate links. You can read my disclosure policy here.
Yesterday I had the privilege of meeting Laurie Hernandez Olympic Gold Medalist and Dancing With the Stars Champion. I follow Laurie on twitter and found out that she would be speaking at the Covina Assembly church. This isn't my home church, but I wanted to hear Laurie speak so I came to their 11am service. I felt so welcomed by the church staff and members which was wonderful. The sanctuary reminded me of the church that I grew up in.
Following worship and a short sermon Laurie came to the stage to speak with the Pastor Lee MacFarland. Laurie has been an inspiration for me with her positive attitude and larger than life personality. I loved watching her shine during the Rio Olympics. Did you know that her teammates called her a human emoji? Following the Olympics, I cheered for her on Dancing With the Stars where she continued to shine.
Interested in attending Celebrity Events like this in the future? Find out how here.
At the start of the service one of the staff members made a comment that Laurie was currently having a blast playing with the children. They had offered her a break between the services but she said she didn't need a break and wanted to play with the children as long as possible.
Pastor Lee started by asking Laurie about her experience at the Olympics. At just sixteen years of age Laurie was a member of the Final Five which was one of the most dominant USA gymnastic teams of all time. She was asked what it felt like to have the medal put around her neck and hear our national anthem. He also asked if she cried during that moment. Laurie shared that it felt amazing and that she was too happy to cry. The pastor spoke about Laurie's beam and floor routines and how quiet it was when she performed. Laurie prefers for it to be loud while she does her routines so she feels like no one is really watching her. However, at the Olympics with it being so quiet she knew that eyes were on her. How did she keep her nerves from getting the best of her? She chose to pray as a way to keep calm.
She didn't just pray at the Olympics, Laurie and Val prayed together before every dance on Dancing With the Stars. If you go to Laurie's twitter you will see that it says God 1st. Laurie grew up in a Christian home and her family even has a group text where they send each other bible verses daily. Her schedule is crazy busy but she is still choosing to put God first and I admire that so much. It was such a blessing to get to hear she share about her faith.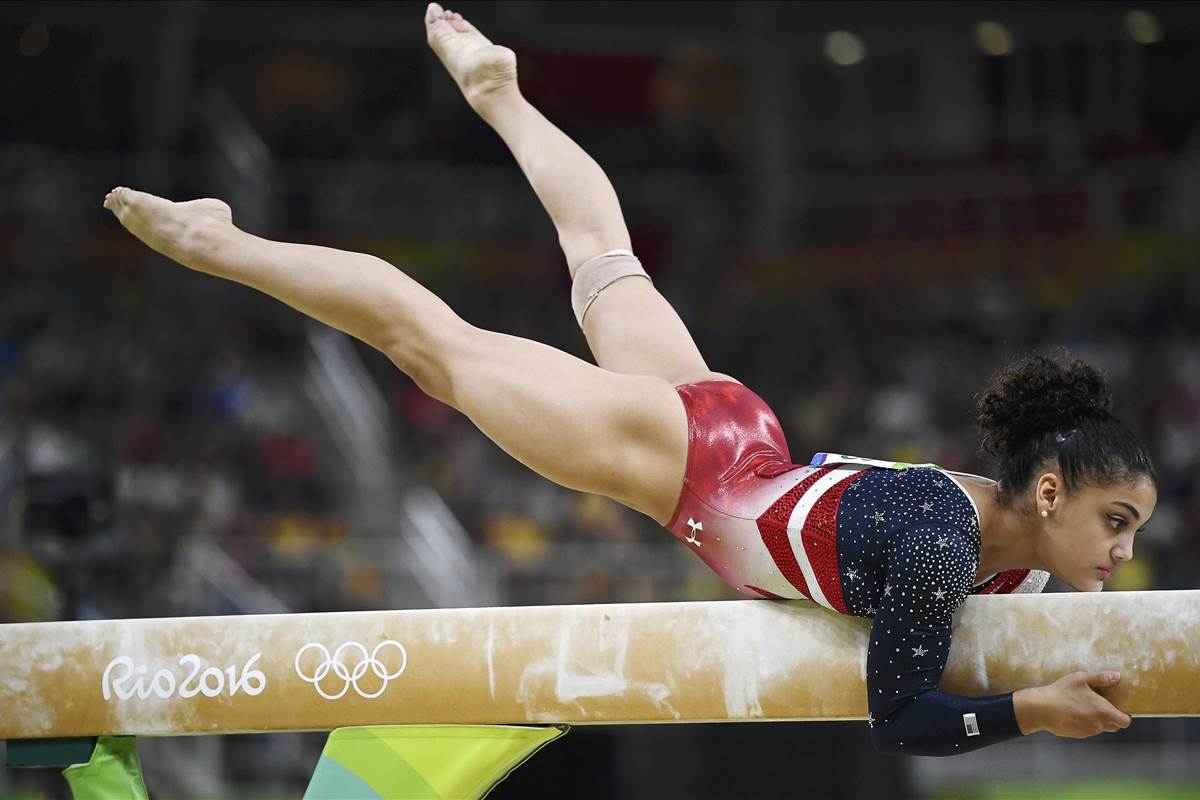 The conversation ended with Laurie being asked about the people she's met since the Olympics and which ones have been her favorites. Tori Kelly, another Christian, was one of Laurie's favorite celebrities to meet. She also loved getting to know Jana Kramer on Dancing With the Stars. Beyonce and meeting the Obama's at the White House were some other favorite moments for her. Following the end of the service Laurie took pictures with as many people as she could. I was so happy to get to meet such a kind and fun Olympian.
Laurie just released a book and while I don't know what the future holds for her beyond that, I have no doubt that she will be successful.