This post contains affiliate links. You can read my disclosure policy here.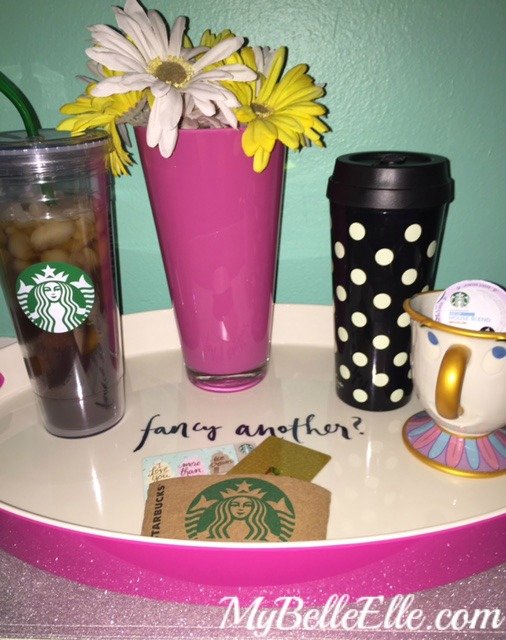 Kate Spade Fancy Another Serving Tray

Are you a coffee lover who visits Starbucks regularly? While I do not visit Starbucks too often it is my go to place for coffee. I enjoy my visits to Starbucks even more when I am able to save money on my order or even get an iced caramel macchiato for free. Did you know that if you bring your own cup to Starbucks you can save 10¢? For those who go to Starbucks often those savings can add up. Most of the time when I use a Starbucks gift card that I have earned for free through rewards websites. Be sure to check out my recommendations below on how to save money at Starbucks.
My Starbucks Rewards
How to join: Once you have purchased a Starbucks gift card you will want to visit the Starbucks website to register for the program. This program has changed since I wrote this post and I no longer use it other than getting a free drink on my birthday. If you go to Starbucks often it can be a good way to get free drinks.
Bing Rewards



Click here to join: Bing Rewards
You can use the points earned through bing rewards to redeem $5 gift cards to Starbucks. You get one point for every two searches through the bing website on your phone or computer. You can earn up to 25 points per day for your searches. There are normally a few bonus points per day as well. When you redeem the gift card you will receive an email with an electronic gift card. You can then transfer the gift card to your Starbucks app and enjoy the extra $5.
Kellogg's Family Rewards®
Do you purchase Kellogg products at the grocery store? Click here to join: Kellogg's Family Rewards
How do you earn points? Anytime you purchase an item that is sold by Kellogg's you can earn points to use on a variety of rewards. You can upload information from your grocery receipt or add your grocery store loyalty card to your account. Once you reach 7,000 points you can redeem a $5 Starbucks gift card. It can take a while to earn the gift card but I see as a great perk since I buy Kellogg products on most of my grocery shopping trips.
Disney Movie Rewards
Do you have Disney movies on dvd or blu-ray? Click here to join: Disney Movie Rewards
If you open up your Disney movie cases you should see a blue piece of paper that says Disney Movie Rewards with a code on it. Once you have created an account be sure to enter the codes in. Typically you can earn 100 points per dvd code and 150 points per blu-ray code. You can redeem your reward points for Starbucks gift cards.
Shopkick
How to join: download the Shopkick app on your smart phone & create an account.
You can redeem your points for $5, $10 or $25 Starbucks gift cards. To earn Shopkick points you will want to open the app to see what stores around you are offering points. Earn walk in kicks you will need to open the app and keep it open as you walk into the participating stores. You can also earn kicks by scanning items using your phone at participating locations. This is a very easy way to earn free gift cards while running errands.
Swagbucks
You can join swagbucks here.
How does it work? You earn gift cards to places like Starbucks by completing surveys, watching videos and more. Over the two years I've been a member on swagbucks I've earned around $75 in gift cards. That might not sound too impressive but I haven't been very active on the site. Just think of what you might be able to earn!
Do you have recommendations on how to save money at Starbucks?