This post contains affiliate links. You can read my disclosure policy here.
I just adore a good DIY project and I get even more excited if the DIY project is somehow related to movies and television. So when I saw Reese Witherspoon post pictures of fans who had made a Wreath Witherspoon I knew I had to do this. Using a wreath I already had I attached magazine pictures of Reese that I cut out. I love puns so this DIY was so much fun for me!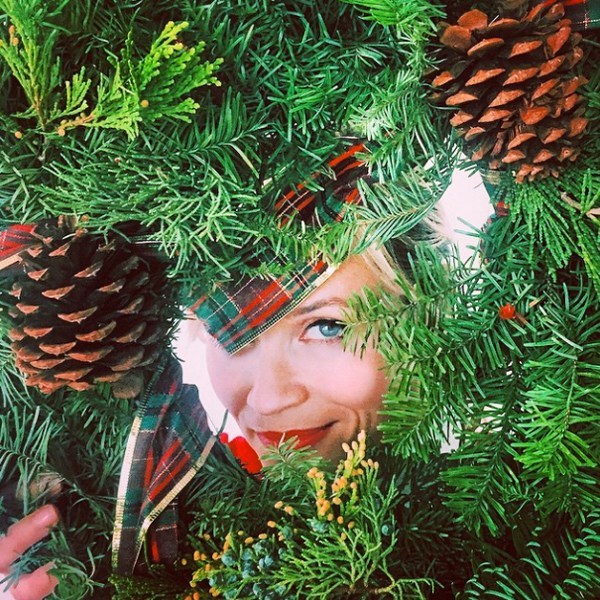 Wreath Witherspoon The Mindy Project DIY That Fans Are Loving
Wreath Witherspoon became a thing when The Mindy Project featured one on the show. It is such an easy DIY project, especially if you already have a wreath on hand like I did. I'm going to a Christmas party tonight with my co-workers. We work at movie studio so when I shared a picture with them they all said "please bring the wreath to the party". It is going to be fantastic for photos. Next year I'll be sharing it on my instagram and tagging it with #WreathWitherspoon. This year Reese shared pictures of some of her favorite wreaths on her instagram.
When Reese got an Oscar nomination for Wild a few years ago Mindy sent her an Oscar themed Wreath Witherspoon. This is just the cutest thing that I have seen in a while! Maybe Reese's brand Draper James can create some that fans can purchase. Now all I need is for someone to say "You made a Wreath Witherspoon?" So I can channel my best Elle Woods impression and say "What like it's hard?"
I used a cute ornament wreath that I got from Michaels. Any kind of wreath will work for this. You can even cut out a wreath shape with paper and then stick photos of Reese on that. The point is to have fun. Elle Woods would have a pink wreath that would also be scented to give it a little something extra.
If you are in need of a wreath you can find one on Amazon for under $15. Don't have many magazines? Ask your family & friends if they have any that you can cut pictures of Reese out of. This would be such a fun craft night to do with the girls.
If you're a big fan of Reese be sure to check out my blog post on my visit to the Draper James store in Nashville.