This post contains affiliate links you can read my disclosure policy here.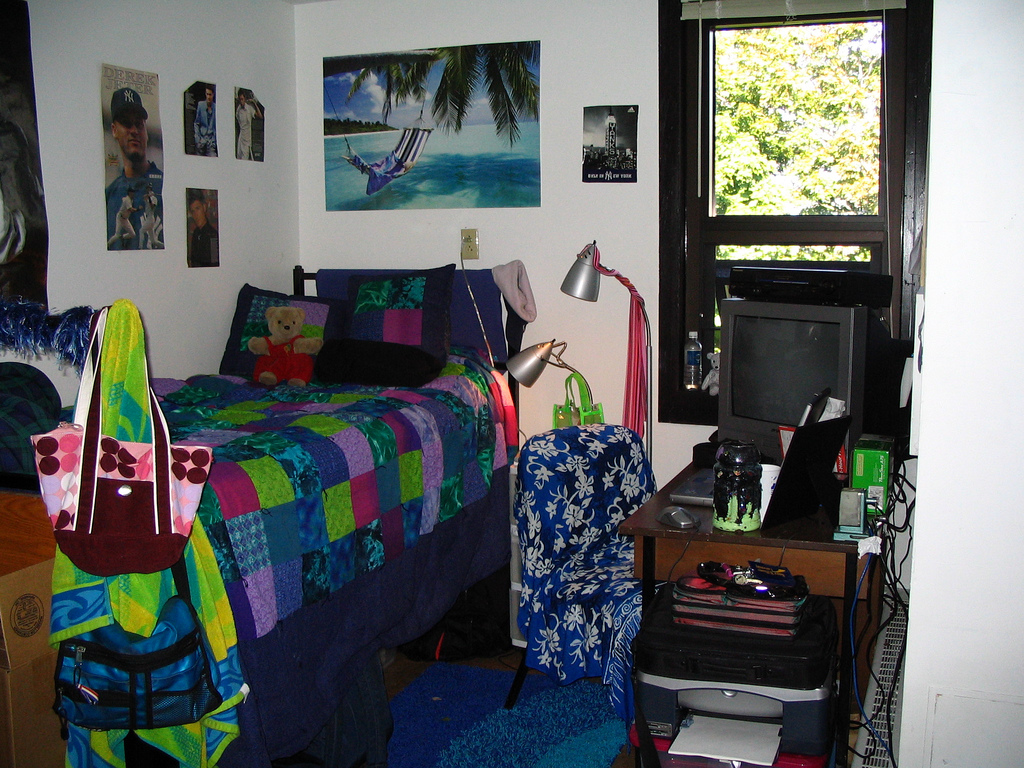 Dorm rooms don't have the best reputation. They are thought of as old, cramped, and some times just down right disgusting. I have seen my fair share of dorm rooms over the years through camps I attended on college campuses as well as college tours. The main reason that I chose to attend the University of Tennessee at Chattanooga was because of how impressive their new dorms were.
After experiencing less than ideal living situations at various colleges, I felt like I was in heaven when I walked into UTC Place. UTC Place was the name of the type of dorm I spent my first and last year of college in. My dorm consisted of four individual bedrooms with two bathrooms, plus a full kitchen and living room. Inside my actual room was a nice sized desk with two big shelfs above, a tall dresser and a nice sized closet. The best part was the full sized bed with storage underneath and having our own washer and dryer.
Unfortunately, not all dorm rooms are so wonderful. I spent my sophomore year at California State University Monterey Bay. The dorms here were nicer than others I had seen but not nearly as great as what I had at UTC Place. At CSUMB I learned that by sticking half of my bed into my closet I could have a lot more floor space. My floor space doubled when my roommate moved out and no one else moved in!
Regardless of what type of dorm room you have it is up to you to make it your new home. When I'm in my room I like to relax. Making my dorm room more comfortable was a high priority for me. Luckily my Mom was really great at helping me put everything together. It was so much easier though when I was attending school in Tennessee and was able to drive my things to school. When I was attending college in California I could only take what I could fly with which meant some of my comforts were left at home.
Without further ado here are 8 tips to make your dorm room more comfortable:
1. A memory foam mattress topper
The generic mattresses provided by the schools are not very comfy. This is something I would not have known I needed without my Mom getting me one. While these can be expensive you can find great deals on them if you do some research. My beds in college were always comfortable thanks to my Mom and the mattress toppers. I also recommend buying a mattress cover to provide an extra layer between a gross mattress and your topper and sheets.
2. Jersey Sheet Sets
I love jersey sheet sets because they are so soft. You might have a different preference for sheets. For me the feel of a soft t shirt is so comfortable. I don't sleep well on rough sheets. I have bought these sheets at both Bed Bath and Beyond as well as Target. They are affordable and I highly recommend them. If you buy two sets of sheets you can have clean sheets while you wait to do laundry.
3. Reading Pillow
Odds are at one point or another during your time in college you'll be working on a paper from your bed. Or you'll be watching Netflix and catching up on social media. Either way I find the most comfortable way to be on my computer in my bed is with a reading pillow. Not only are these comfy but they provide good support to your back and arms. My parents surprised me with a really great one that included pockets and a cup holder. Too bad its too big to fly out to me in California.
4. Laptop Stand
Whether your on your computer in your bed or from the couch I'm sure you've noticed how hot they can become. A laptop stand is the perfect solution when you need to do your homework but don't want to be at a desk. Of course, you can also use them on a desk if you wish. I used one I bought at Kohls that has a fan in it to keep your laptop cool. Laptop stands make it much more comfortable to get your work done.
5. Body Pillows
I found a body pillow quite useful for my dorm room. One year there was a small gap between my bed and the wall. The body pillow was perfect for closing the gap and keeping things like my phone from falling down. The pillow was soft and a great addition to my room.
6. Fan/heater
The odds are pretty high that you will have no control over the temperature of your dorm room. Either it won't have air conditioning or you will have one roommate who keeps it below 70°. It's also important to know that you might not be able to open the window in your room. A small fan/heater can be really useful.
7. A Reed Diffuser
I have yet to hear of a college that allows candles. A good alternative to bring to keep your room smelling nice is a reed diffuser. I love the Christmas Cookie scent from Yankee Candle.
8. A Small Lamp
Some dorm rooms have an overhead light and a light near your desk or bed. I never lived in a dorm that had a small light by my bed. I bought a small lamp from Kirklands that was perfect. If your roommate goes to sleep before you it's not too much light that it should keep them awake.
What are your tips for making your dorm room more comfortable?