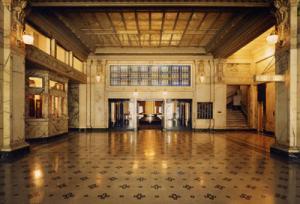 One of my most treasured memories with my family at Christmas time was our tradition of watching the movie White Christmas. Every Christmas Eve, after attending the candlelight service at our church, we would watch the movie and sing along with to the songs. If you have never seen the movie but have an appreciation for classic movies or musicals I think you will enjoy it. With Bing Crosby, Rosemary Clooney (you might know of her nephew George), Vera Ellen & Danny Kaye it is hard to go wrong with watching this movie. After moving out of the same state as my parents my Christmas traditions have changed due to my work schedule but I always make sure I have time to watch this movie during the holiday season.
Earlier this month my Dad came to visit me which I was very happy about. I found out that the stage version of White Christmas would be performed in San Diego during his visit and we thought it would be fun to go and see it. I may not get to be with my parents on Christmas Eve or day but with my Dad in town we could continue on our White Christmas tradition in a new way. When I was in high school we saw the show at a theatre in Nashville and liked it. We originally purchased tickets for the matinee show on a Sunday but ended up needing to switch the tickets to Saturday. Our tickets were purchased through Ticketmaster who was very helpful in switching the tickets. The theatre does not charge extra to change the date or time on your ticket as long as there are still available seats. If you purchase tickets for a show at any location and need to make some changes please note that Ticketmaster customer service is very helpful.
The show was at 2pm but we decided to drive down to San Diego early and do some sight seeing. After we finished sight seeing we drove to Seaport Village for lunch. We have been to Seaport Village before and love going there. It is a shopping and food area that sits along the water. We ate at the Harbor House and asked for a table by the window. We we both ordered a lobster roll. Neither one of us had ever tried a lobster roll before and both really liked it. The fries that came with it were good as well. Outside of the restaurant they had their lunch and dinner menu posted. The lobster roll is only listed on the lunch menu and even though we were there for lunch we were given the dinner menu. I asked the waitress if I could order the lobster roll and was told that was fine.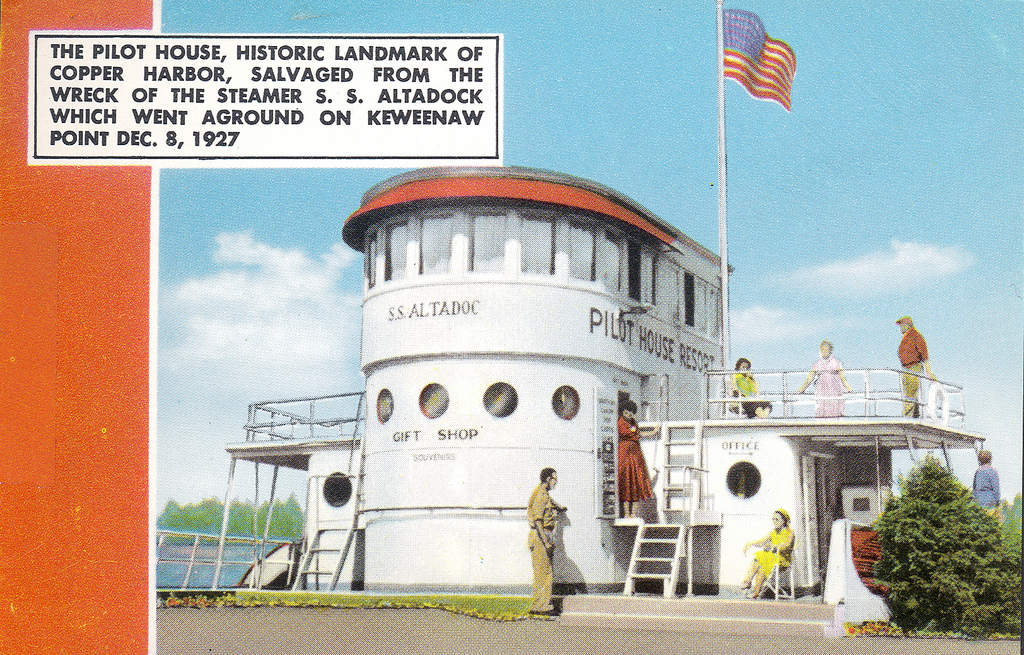 My meal filled me up so originally I said no to dessert thinking I would just get a small snack during the show. However, when I saw the dessert tray go by I knew I had to order something. I ended up picking a triple chocolate cake which was a great decision. The cake was delicious and the perfect size for my Dad and I to share. Seaport Village is only a few miles away from the Spreckels Theater which worked out beautifully. We drove to the theatre and parked underneath for $10. If you park at the theatre valet is your only option but I think $10 for parking in downtown is a pretty good deal. The stairs in the parking garage lead you to the lobby of the theatre which is was very convenient.
The Spreckels Theater opened in 1912 and in the 1920's hosted Hollywood Premieres. I love going to theaters that have a special history so I enjoyed reading about the theater in the lobby. The theater is very pretty with a beautiful box office. There is a concession stand that has a nice variety of candy and drinks available for purchase. If you wish to get a drink please note that only drinks with tops will be allowed in the theater. Another good thing to note is that the restrooms are on the lobby level so if you have tickets for the second or third level you may wish to stop before you head to your seats.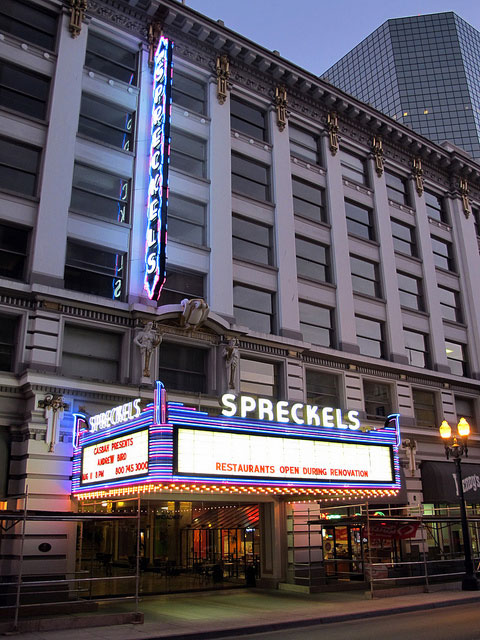 I thought that the lobby was pretty and the theater itself is gorgeous. While I do prefer the movie White Christmas to the stage show I did really enjoy the production. There are some differences between the movie and the stage version with different songs and some variations in the storyline. If you enjoy seeing musicals I would recommend watching White Christmas on stage. The music is beautiful and seeing the show is a great family friendly event. The cast that my Dad & I saw in San Diego was fabulous and I would see it again. At the end of the show when the cast sang White Christmas it snowed inside the theater which was a really special touch that I was not expecting.
San Diego is a city that has a lot to offer. If you decide that you want to see a show while you are in the city the Spreckels Theater is a good place to go. I would also recommend stopping at Seaport Village for a meal and the Harbor House would be my recommendation for lunch. For fans of the movies you might also be interested in visiting Hotel Del Coronado where Some Like It Hot was filmed. On my next trip to San Diego I would love to explore Old Town.
If you won't be visiting San Diego but will be visiting Los Angeles check out my blog post on seeing shows at the Pantages: Pantages in Hollywood