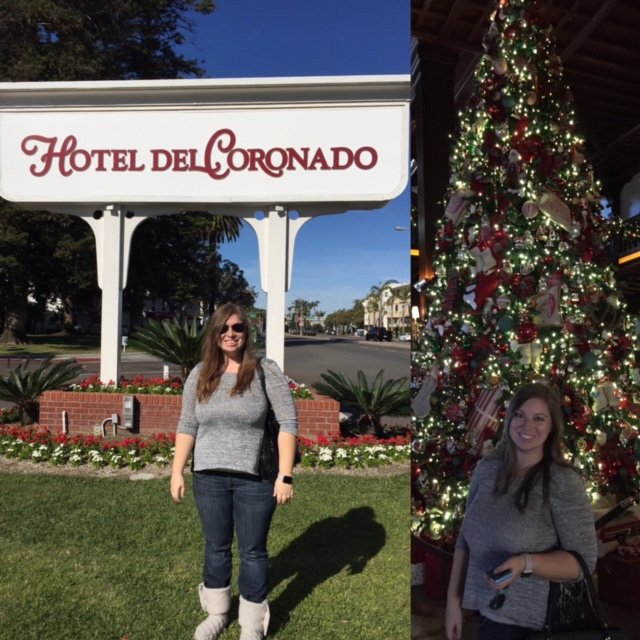 Recently my Dad and I were in San Diego to see a musical and decided to visit Hotel Del Coronado while we were in the area. We had both been there before at different times but were interested in going there again. The hotel is located near downtown San Diego in Coronado and is truly a special place to visit. I was pleasantly surprised that we were able to find street parking directly across from the hotel. It was even more surprising that the parking meter only charged .25¢ an hour. Parking at the hotel is very expensive so unless you are staying at the hotel I would encourage you to look for street parking.
Hotel Del Coronado opened in 1888 and by the 1920's it had become a popular destination for the Hollywood elite as well as several Presidents. The hotel was even used in the Marilyn Monroe movie Some Like It Hot. There is a dragon tree that I found with a sign in front of it saying it was used in the movie and there were a few signs with pictures from the making of the movie. The hotel they stay at in the movie is supposed to be in Miami but in reality they were at this gorgeous hotel in Coronado. If you are a big Monroe fan or just enjoy visiting locations where movies were made this Hotel is a great place to visit. Not only is the Hotel worth exploring and checking out but after you can relax at the beach.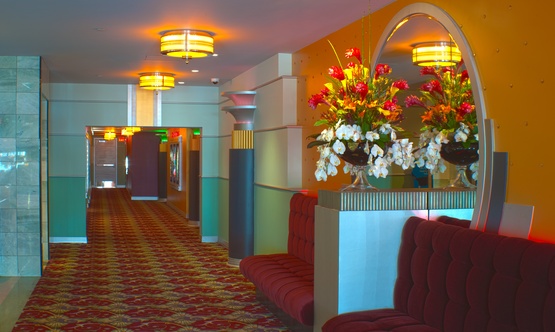 With the victorian themed architecture the hotel is stunningly beautiful and is located right on the beach providing the perfect scenery for guests and visitors. The Grand Floridan Resort & Spa in Walt Disney World reminds me a lot of Hotel Del Coronado and both hotels have a luxurouis feel to them. In 1977 Hotel Del Coronado was named a Historic National Landmark and I hope that will help this hotel to stay around for a very long time. After exploring the outside my Dad and I made our way into the lobby which had a lovely Christmas tree set up. Behind the check in counter were screens showing a live feed from the waves just outside. The lobby has such a vintage feel to it and the elevator is incredible. Just one look at the elevator made me feel like I had been transported back in time.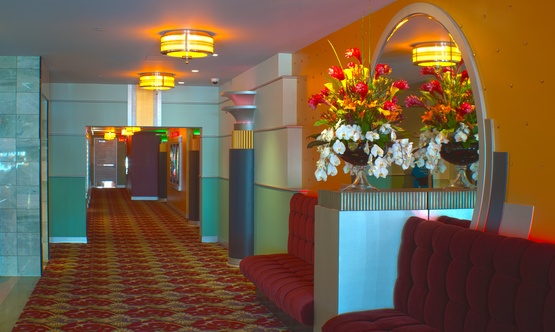 I would love to be blogging about how amazing it was to stay there and what that experience was like. However, for now I remain an admirer of this beautiful hotel. I don't think you need to be a guest at the hotel in order to have a good time. Currently, there is an ice skating rink set up in the back of the hotel overlooking the beach. That's right you can go ice skating at the beach which I think is really cool and by far the best view from an ice skating rink I have ever seen. In addition to having the ice skating rink during the holiday season guests and visitors can also enjoy DELights which is a holiday lights experience that takes place in the Garden Patio. Since we had limited time before we needed to leave for lunch & our show we mainly walked around the property. My Dad & I really enjoyed sitting down at some tables for about ten minutes facing the ocean which was very relaxing. We both were amazed by how beautiful the hotel is and how cool it would be to stay there and walk out onto the beach.
If you will be in the San Diego area and are looking to have a nice dinner I would recommend seeing if one of the restaurants at Hotel Del Coronado would fit into your budget. Another special thing that is happening for the holidays which guests and visitors can take advantage of is Victorian tea. I would enjoy this now as an adult but as a little girl I would have especially loved dressing up and going to such a grand hotel for tea. A few days ago they had Teddy Bear Tea which was very kid friendly with craft tables and Mrs. Claus & some elves. Even if your budget is low the Hotel is still worth visiting since you can walk around and admire the architecture and the scenery with no cost other than parking. Should you chose to add on any other expense that is up to you.
If you are at all interested in visiting or staying at Hotel Del Coronado you can click on the link here for more information: http://hoteldel.com
To read about the musical I saw in San Diego click here: Seeing Shows at the Spreckels Theater in San Diego