This post contains one affiliate link. You can read my disclosure policy here.
As Hollywood prepares to get ready for award season more and more great movies are being released. It is also a great time of the year to see these movies at various screening series with q&a's after with actors, screenwriters and directors. Last week I attended a free screening of the movie Trumbo which was hosted by the LA Times as a part of The Envelope Screening Series. In addition to getting to see the movie a week early we were treated to a q&a after with Bryan Cranston who played Dalton Trumbo, Michael Stuhlbarg who plays Eddie and screenwriter John McNamara.
I had not heard of this movie until I saw a tweet on Twitter with a link to get the free tickets to the screening which included the q&a with Bryan Cranston. It was the possibility of getting to see Bryan Cranston that made me click on the link. For this particular screening series priority is giving to members of various guilds like SAG (Screen Actors Guild) or WGA (Writers Guild of America). You can register for tickets through the LA Times website and once all guild members have checked in any left over space will be given to non guild members. At this time I am not a member of a guild so I was in the standby line but I was able to get in.
The screening took place at ArcLight Cinemas in Sherman Oaks. There is a parking structure close by and you can get your parking ticket validated at the movie theatre which is good for four hours. It was almost five hours later when I returned to my car and only had to pay $1 which in Los Angles is a miracle. When I checked in I was given two tickets and two pink slips and I realize now that I should have paid more attention to the pink slips. I glanced at it when it was handed to me and it looked like a promotional paper advertising the screening series. I realized after the movie was over that it was a voucher for a free popcorn and drink so take my advice and always read what they hand you.
When you are given your ticket/tickets, you can register for two tickets, and you will be assigned a seat. My friend and I were given tickets in the second row which was very close but for a free screening you can't really complain. The movie began a little late because Bryan, Michael and John were at another q&a which had started late and they were trying to time everything nicely. Once the movie started I was immediately caught up in the fascinating story. Trumbo tells the story of Hollywood screenwriter Dalton Trumbo who was blacklisted for being a communist.
Bryan Cranston gave an incredible performance and really touched my heart with his portrayal of this man who stood up for what he thought was right. In school I learned about Joseph McCarthy and all that he did with the trials he held but I had never read about the stories of those whose lives were forever changed by the trials. I would imagine that this movie will be even more moving and meaningful to those who remember what that time was like. Not only did I find the story intriguing and emotional but I was so impressed with the cast.
The casting directors for Trumbo put together a group of actors who brought their A game and gave life to this story. I have not been a big fan of Louis C.K. previously but I was very impressed with his portrayal of one of the blacklisted screenwriters Arlen Hird. I thought it was a very refreshing and honest portrayal and I really hope that he is considered for Best Supporting Actor in the upcoming awards season. Helen Mirren is a great talent who I admire and respect and she certainly does her job well in this movie. She plays Hedda Hopper a character who does her best to make sure that Trumbo and his friends do not work in Hollywood. The villain she portrays is so evil that I had to remind myself that just because I disliked this character did not mean that Helen Mirren is anything like her. John Goodman, Elle Fanning and Diane Lane were all great as well but my favorite performances were from Bryan, Louis and Helen.
Interested in attending Celebrity Events like this in the future? Find out how here.
The movie is a great encouragement that we are never truly defeated until we give up. Trumbo decided that being blacklisted didn't mean that he still couldn't write it just meant that he would need to find other ways to get his work published. Some scripts were given to people he trusted to turn in under their names though he also used fake names himself. His work received two Oscars while he was blacklisted which he was later given credit for. Because he didn't give up and continued to preserve he worked towards weakening the blacklist. By the end of the movie I wanted to hug Dalton Trumbo because I was so moved by his story and what had happened to him & his family as well as so many others.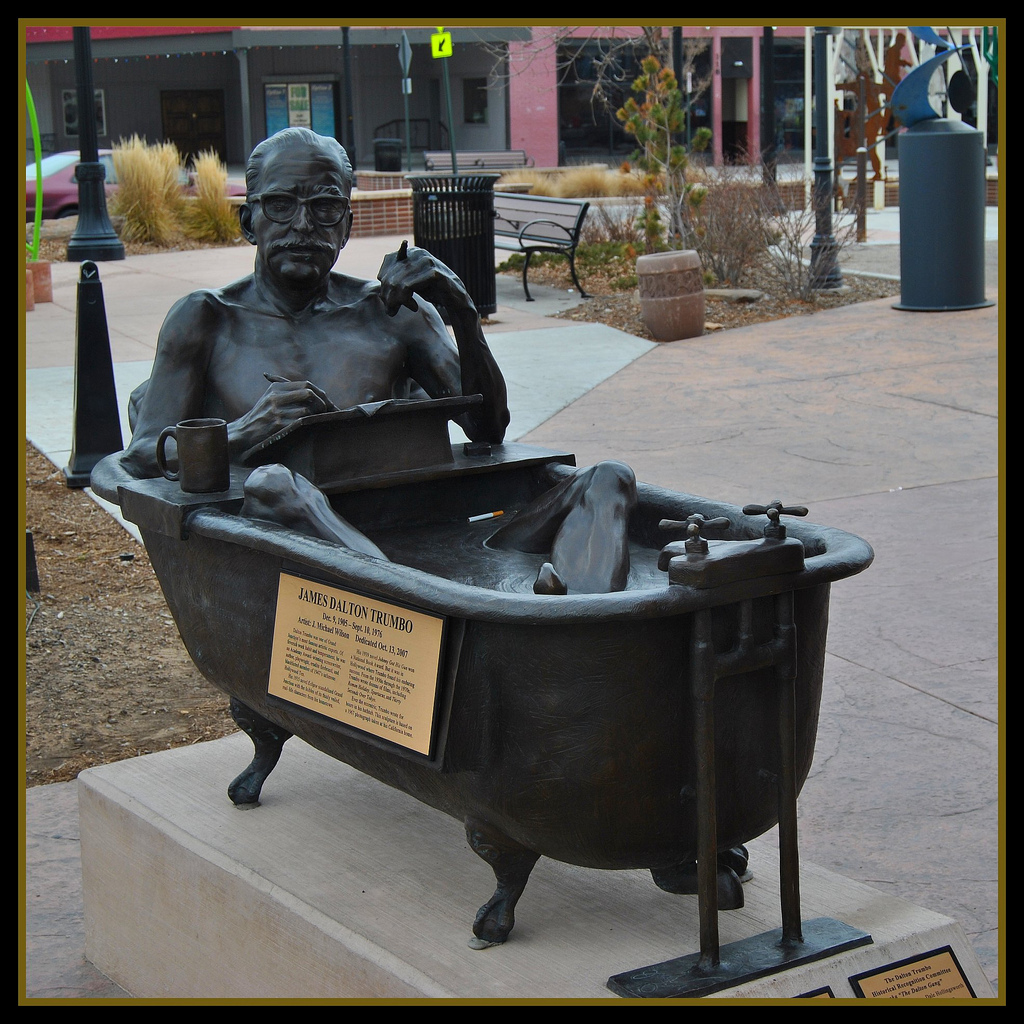 Following the movie LA Times writer Jeffrey Fleishman moderated the q&a which I recorded and 98% of it can be watched on my youtube channel. I ran out of space my on my phone in the middle so I had to delete other videos to be able to continue recording. If you would like to watch the q&a, which I would highly recommend, you can click here: Elle's Youtube Channel. My only complaint about the q&a is that the moderator did not hold the microphone close enough and did not speak loud enough.
John McNamara got the idea to write Trumbo during the writers strike in 2008. He was a TV writer at the time and needed a job when a friend came to visit him. As he explained in the q&a the conversation turned to Dalton Trumbo and when his friend did not know who that was John told him Trumbo's story and his friend told him to make it a movie. John did a tremendous amount of research and Trumbo's daughters were consultants on the film and helped out a lot. The q&a was really informative and really enjoyable!
If you are interested in attending The Envelope Screening Series you can find out more information about it here: LA Times Screenings. If you are a non guild member be sure to show up early to help increase your chances of getting in. I can really appreciate a movie like Trumbo but as much as I recommend the movie I know that not everyone will enjoy it like I did. If you prefer movies with more action than story this movie is not for you. Those who enjoy history and like to see different sides of a story will appreciate the movie. I went into the screening with no idea of what to expect and I left fascinated. When I got home I was hungry for more information on Dalton Trumbo and I wanted to learn more about the blacklist.
If you are able to see Trumbo at Arclight Cinemas in Sherman Oaks they currently have an outfit worn by Bryan Cranston and an outfit worn by Helen Mirren on display. Trumbo will be in theatres on November 6th and I really hope that some of you will see it. The movie is rather long so I would recommend getting or bringing a snack or a drink with you but I think you'll understand that it is so long because there is so much to be told in the movie. I would like to thank Mr. Trumbo for writing the screenplay for my favorite Audrey Hepburn movie Roman Holiday. I am really excited to see what other movies award season has in store for the movie lovers.