Ansel Elgort is a rising star in Hollywood after charming the world as Augustus Waters in The Fault in Our Stars (TFIOS). I loved the character of Augustus in the book and he did such a wonderful job of bringing him to life on the screen. After watching TFIOS I became a fan of Ansel's so when I had the opportunity to go to an event that he would be at I knew I had to go. As an actress and a big fan of movies I follow The Academy on twitter . Last November The Academy tweeted out that they were giving out free tickets to The Nicholl Fellowship awards night.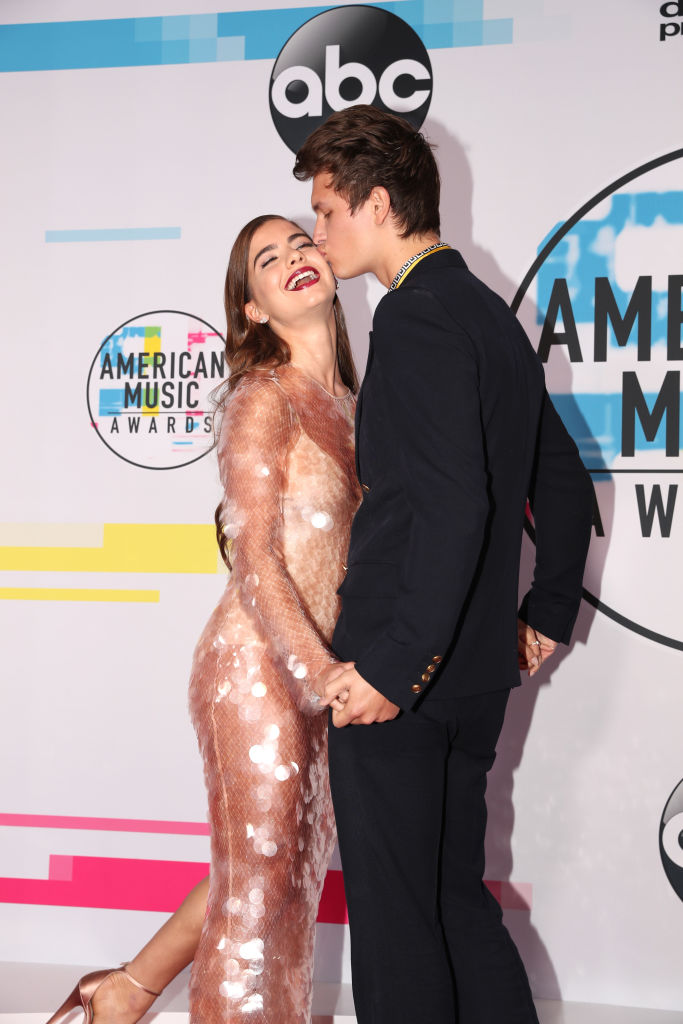 The Nicholl Fellowship is open to aspiring screenwriters yearly and the winners receive around $35,000 and help networking for their next script. During the awards night in November the four winners get to hear an excerpt from their screenplay read aloud by actors. Four actors were asked to participate in the reading: Jack O'Connell, Tessa Thompson, Clancy Brown and Ansel Elgort. When I found out that Ansel would be there I chose to go to try and meet him but I was so pleased with what a wonderful experience the whole evening was.
Screenwriting is something that fascinates and inspires me and for those winners what an incredible way to hear your story read out loud. There were 7,511 screenplay entries in 2014 and four were selected for the Nicholl Fellowship. For anyone interested in writing screenplays this is a great opportunity for you to come and see what the fellowship is about. Ava DuVernay (director of Selma) presented the first award and as it turns out Ava was a Nicholl Fellowship finalist nine years ago. Eva Marie Saint, who has a Best Actress Oscar for On The Waterfront, presented the second award and just added to an already special night.
Hearing these talented actors read these scripts was incredible and a great blessing. Getting to hear Jack O'Connell read the script and see him in person means a lot to me now that I have seen Unbroken. I was not familiar with Jack prior to the Nicholl Fellowship awards and once I saw Unbroken and realized that was the same guy from the live reading I was so excited. Clancy Brown was not a name that I recognized but after reading his IMDB page I realized how many shows he has been a part of. And he was in The Shawshank Redemption which is a movie that I like. I was a little familiar with Tessa Thompson because she had been a guest star on Grey's Anatomy a long time ago. All four of the actors did a fabulous job with the live read and I am really anxious to see who will be invited to this years awards presentation.
I have so much respect for Ansel after witnessing his interactions with fans after the reading. He was the only actor that stayed to meet fans which I think says a lot in and of itself. There was quite a crowd around the side of the stage where he was and he was practically mobbed but he still stayed hugging fans and taking selfies with everyone who asked. It was quite difficult to work through the crowd but luckily my friend Bruno was able to help me push through and after getting cut off several times I stepped up on some steps right below the stage. I politely asked for a picture and he took my phone and we got a selfie. He was so patient and so kind with the crowd which really meant a lot to me.
If this sounds like an event that you would be interested in attending make sure to connect with me on twitter where I will relay any information on the 2015 awards. I would also like to say that there is no guarantee of meeting or getting pictures with the actors afterwards so keep that in mind if you go. When I went to this event it was held at the Samuel Goldwyn Theatre and the best option for parking was in a parking structure located off to the side of the building. This is a great free event with the potential to meet a celebrity. If are interested in meeting celebrities in the Los Angeles area be sure to check out my blog post on Top 5 Ways to See Celebrities in LA