On the first day of the cruise we went to Kotor, Montenegro but were not scheduled to arrive there until after 2:00pm which freed up the morning to explore the ship. Since my sleep schedule was completely off I was up before at sunrise and took some time to walk on the track at the top of the ship. Then I had time to enjoy the pool which was so refreshing due to how warm it was. By the time the boats were ready to take people to shore it was quite crowded because so many people were trying to exit at once. They had issued out tickets with numbers to try and spread out the crowd but it was still a bit chaotic. Luckily the boat ride was less than five minutes because it was very hot and loaded with people.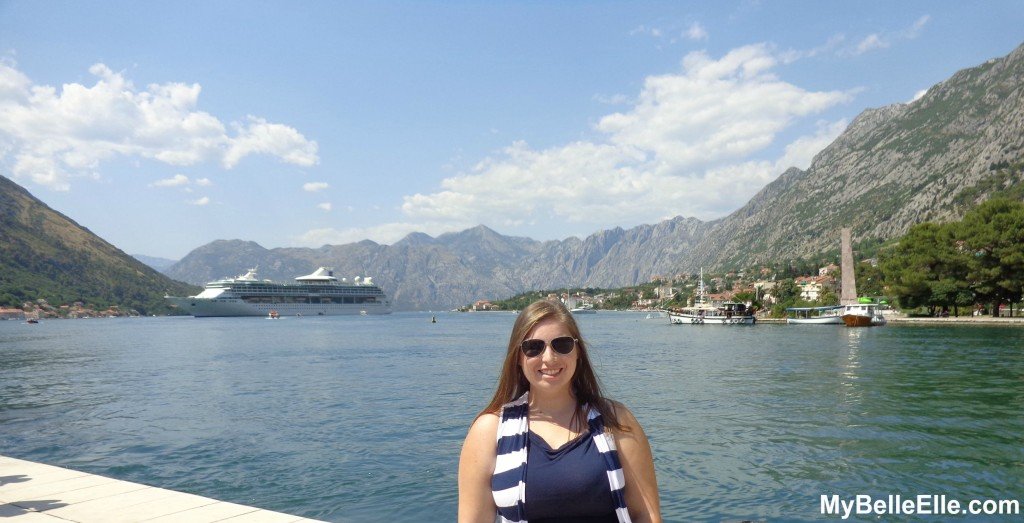 The picture above was taken from the spot that the boats dropped us off at. I thought Kotor was just beautiful and everywhere you looked there were mountains. I knew nothing about Montenegro and was so pleased with what I saw.
I knew prior to the trip that it would be hot since it was summer in Europe as well but I underestimated just how hot it would be. My idea was to head to the water to cool off and have a relaxing afternoon. However, once I got to the water I realized that there was no sand leading into the water. To get into the water you have to walk on rocks and the rocks are under the water as well so it wasn't quite the beach that I was hoping for.
There are lots of local vendors who you can rent kayaks from and I saw a lot of people on jet skis while the cruise ship was pulling in but I never saw a place to rent them at. The old city in Kotor is behind a big brick wall that looks like a fortress. The area behind the walls is not very big and can be explored pretty quickly. If you are on a cruise ship that makes a stop here I would encourage you not to do an excursion due unless you are there for a long time. Our ship was only scheduled to be in the area from 2:00pm-7:30pm and a couple from our dinner table took an excursion that was supposed to take them to a place on top of the mountains. It took four hours for their bus to get up the mountain due to one lane roads. By the time they reached the top they had ten minutes to spend there before they came back down. Because they were on a Royal Caribbean excursion they didn't need to worry about missing the ship but they were a really disappointed by the experience.
If you do want to see more of the city without walking a long way you can get a taxi or take a hop on hop off bus. You can pay using euros or sometimes they will take your credit card. Just make sure to manage your time well because the cruise ships only wait for people on excisions offered through the cruise line. If you miss the ship you will need to find a way to meet it at the next port and the last thing you want to do is be stranded in a foreign country. I would definitely encourage you to get off the ship and explore the area a bit but I do not have too much to recommend other than taking a lot of pictures.
For information on the cruise that I took make sure to check out my blog post on cruising in Europe: http://mybelleelle.com/adventures/travel-adventures/cruising-in-europe/