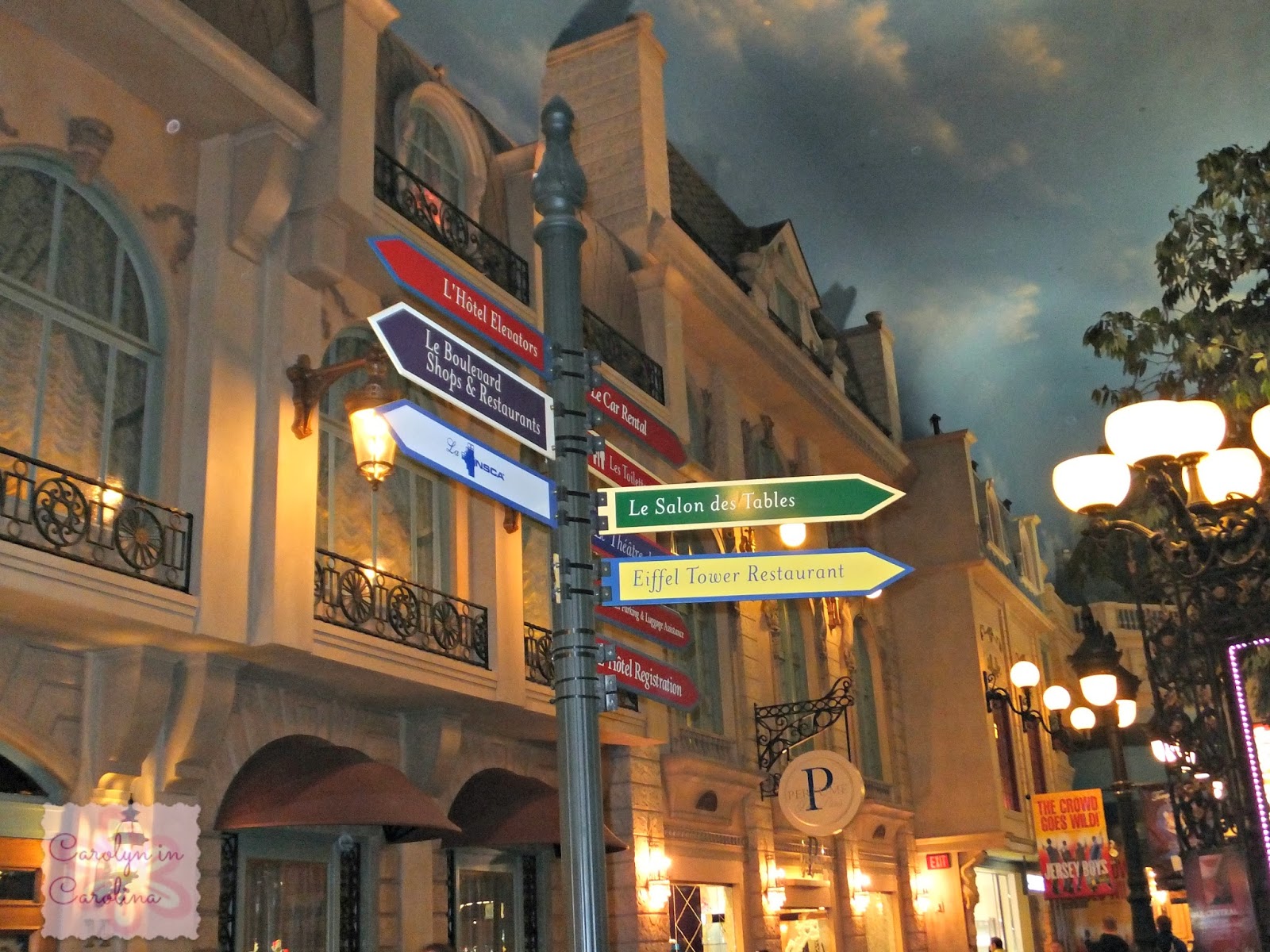 Earlier this year my family took a trip to Nevada and we decided to stay at the Paris Hotel in Las Vegas. On our previous trip to Las Vegas we spent quite a bit of time at this hotel from going up in their Eiffel Tower to enjoying Napoleon's, their dueling piano bar. I was so excited when my parents told me we were going to stay here because for those of you who have not seen it the hotel is gorgeous. When you book a room through the hotels website you have the option of paying an extra $30 a day to have a room with a view or for extra $12 you can book a regular room and if a room with a view is available when you check in you can have it. If you definitely want the room then the extra $18 might be worth it to you since it is a risk with the other option. The view from our room was fabulous because we had a great view of the Eiffel Tower and we could also see the most of the water show from the Bellagio without leaving our room.

The view was by far my favorite part about the room but I also enjoyed how spacious the bathroom was. The room size is good and the beds were comfy which is always a plus. The only thing that I thought was odd about the room was the location of the tv which I would have expected to be inside of the dresser but it was on the wall next to it which I thought provided a bit of a blocked view from the first of the two beds.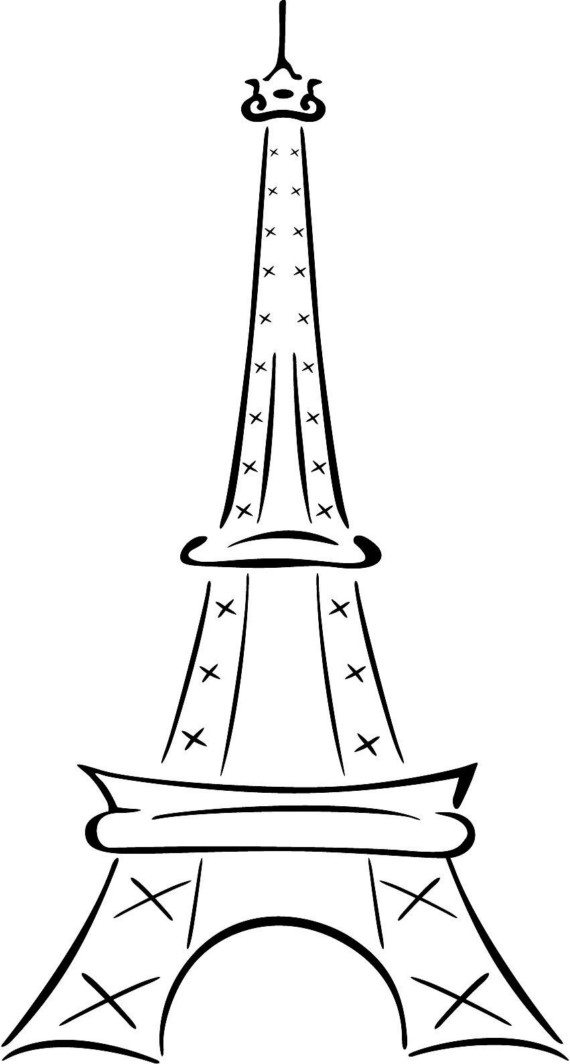 The rooms are nice but there are more reasons than the rooms on why I would recommend staying at this hotel like the location. It also makes a great room even better when you get a great price on it. Visiting in the off season helps but there are still ways to save year round. Military, First Responders, Teacher and Students all receive 10% off on rooms. Also the hotel will price match if you find another website offering their rooms at a lower rate and will offer an additional 10% off.
On a previous trip to Las Vegas my family stayed at Rio which is not located on the strip. The room size at the Rio is fabulous but we were either driving to the Bellagio to valet so that we could walk around the strip or needing to wait for a shuttle to take us to Harrah's. The Paris hotel is located across from the Bellagio and next to Planet Hollywood which was great for what we wanted to do. If shopping is on your list of things to do in Las Vegas then the Paris hotel might be a great option for you. Attached to Planet Hollywood is a huge mall and there are the forum shops located at Caesars Palace which is a close walk. There are also some shops in front of the Bellagio which is convenient as well. Not to mention that you will find some fun shops in the Paris hotel as well.
There is lots of food to be found within the Paris hotel though I was shocked to learn that there was not a Starbucks inside since Las Vegas is covered with Starbucks. There is a large variety of food choices at the hotel: there is a crepe place, a buffet, a sandwich and pizza place, a Gordon Ramsey steak place and a restaurant in the Eiffel Tower just to name a few. If you are looking for a fun experience and can afford to splurge on a nice dinner the restaurant inside the Eiffel Tower would come with a fabulous view and I would believe that the food would be fabulous as well.
On our last trip to Las Vegas my family went up the Eiffel Tower at night which provided great views of the Las Vegas strip. You can purchase your tickets to the Eiffel Tower in a gift shop located in the casino area and once you have your ticket you can wait in the line to go up. There is no time limit on how long you can stay which is really nice. We walked around taking pictures and watched the fountain show at the Bellagio which is cool to see from so high up. If you are afraid of heights this might not be the best option for you but I would say it is certainly worth checking out. Now that I have also been up in the real Eiffel Tower I will say that I prefer the elevators on the one in Las Vegas as I felt that I had a little bit of room in that one.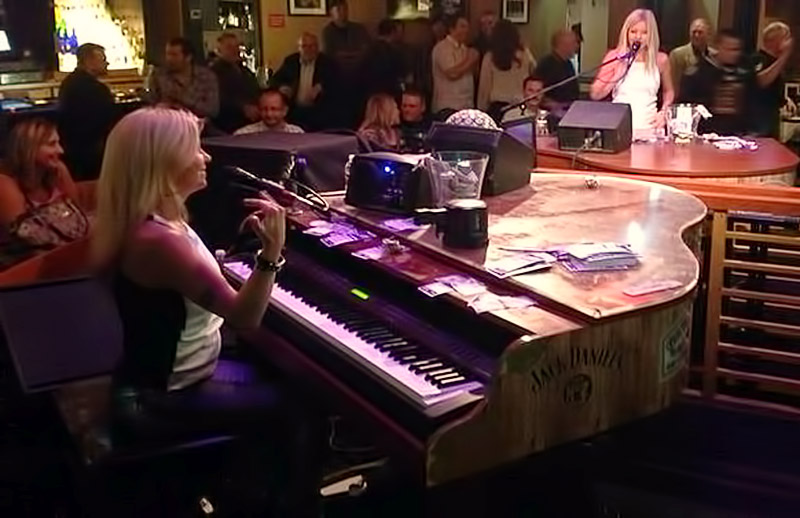 My love affair with dueling piano bars began in 2011 when I was working at Walt Disney World and went to my first one. I was so excited on our last trip to Las Vegas to learn that a lot of hotels had dueling piano bars. After we went up in the Eiffel Tower we had decided to explore the Paris hotel and found their dueling piano bar called Napoleon's. Jellyrolls, which is the dueling piano bar at Walt Disney World, charges a cover fee to get in and if you would like to buy a drink that is fine but you are under no obligation to.
At Napoleon's they do not charge a cover fee so it is encouraged for you to get a two drink minimum. The dueling pain bar is open from 6pm-2am and it is customary for you to tip when you write a song request. The more money you tip the faster your song is played but it also helps if you pick a good song. A good song choice does not need a large tip but if you want Justin Bieber or something on that level you will need to tip well. I would recommend American Pie or Bennie and the Jets because those are great piano songs and they are fun song to sing along to.
If you are looking for a show to go to in Las Vegas Jersey Boys plays at the Paris hotel and is an incredible show. I saw Jersey Boys last year when it came to Orange County and I was fascinated by the story but really loved the music. Even if you do not stay at the Paris Hotel I would still encourage you to see the show. If you do stay at the hotel though how convenient is that. Once the show is over you do not even have to leave your hotel and that is fabulous. So if you are looking for a hotel on the Las Vegas strip I would highly recommend that you stay at the Paris Hotel and if you do not stay there please come and take a look around this incredible hotel.
For more information on the Paris Hotel please be sure to check out their website: https://www.caesars.com/paris-las-vegas
Of course there are plenty of amazing places to stay in Las Vegas. What are hotels on the Vegas strip that you would recommend?