This post contains one affiliate link. You can read my disclosure policy here.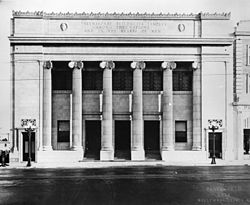 I was not sure what to expect from the movie Max. All that I knew prior to my advanced screening was that it was the story of a military dog. I want to start off by saying that this movie is a great choice for the whole family. From young to old this movie can touch your heart. There were also quite a few moments that gave me a bit of anxiety because I didn't know what was going to happen. This was not a feeling that I had anticipated from seeing the trailer so that was a very welcome surprise. The crowd that was in the advanced screening was a great group to watch the movie with because so many people clapped at various points in the movie which I loved because I too loved what was happening on the screen.
At the start of the movie we see Max bonding with his handler in the Middle East. When his handler Kyle is killed in combat the military attempts to match Max up with another Marine. Max is hostile towards anyone else and they intend to put him down until they see how Max responds to Kyle's little brother Justin. When the family learns that Max will be put down they decide to make him part of the family. At first Justin is hesitant to bond with Max but eventually he ends up having a special bond with the dog. It is so sweet to watch Justin and Max be there for each other as they try to cope with Kyle's death.
The cast is comprised of some great talent like Lauren Graham, who has a southern accent in this movie, but one of my favorite characters was a young girl who befriends Justin. The movie is filled with moments that will make you feel sad but plenty of moments to make you laugh and cheer. This movie was such a great reminder of how incredible dogs are and how special they are. Warning this movie may make you want a dog but I don't think that could ever be a bad thing. If you are looking for a a great movie to take the whole family to I highly recommend Max. It is in theatres everywhere Friday, June 26th!
Below I will share ways to see movies for free before they are released but I also want to share how to save money on movie tickets. Did you know that you can purchase discounted movie tickets from places like AAA, Sam's Club & Costco? Some theatres offer discounted tickets all day one day of the week and for other days the earlier you go the less you pay. Be sure to get a rewards card if the theatre you chose offers them because it costs you nothing and the points can add up quick for free refreshments and tickets.
So how did I get to see the movie Max for free? Previously I signed up to receive emails about movie screenings through Warner Bros. I got an email from Warner Bros. Pictures about the screening and confirmed tickets through their website. Depending on the screening and who is running it means that you can get a number of tickets ranging from one to four. The typical alotment is two tickets but for this particular screening you could select up to four tickets which was really generous. For other recommendations on how to see movies for free please read this blog post: http://mybelleelle.com/movie-screenings/howtoseemoviesforfree/
To sign up for Warner Bros. Pictures advanced screening emails please visit: