I had a wonderful surprise on 10/29 when the Microsoft Theater in Los Angeles contacted me through twitter to let me know that I had won tickets to the Third Day concert the following night. How did I win the tickets? I follow the Microsoft Theatre on twitter and saw their tweet on 10/27 that said "Enter to win 2 tickets to see @thirdday @MSTheater this Friday, 10/30. Follow us & then tag us mentioning why you should win." I responded to their tweet with "@MSTheater I should win the @thirdday tickets because I have listened to their music for years! Their music is fabulous 2 hear in person". All I had to do was tweet a reason why I should win and make sure to take the theater which was very simple.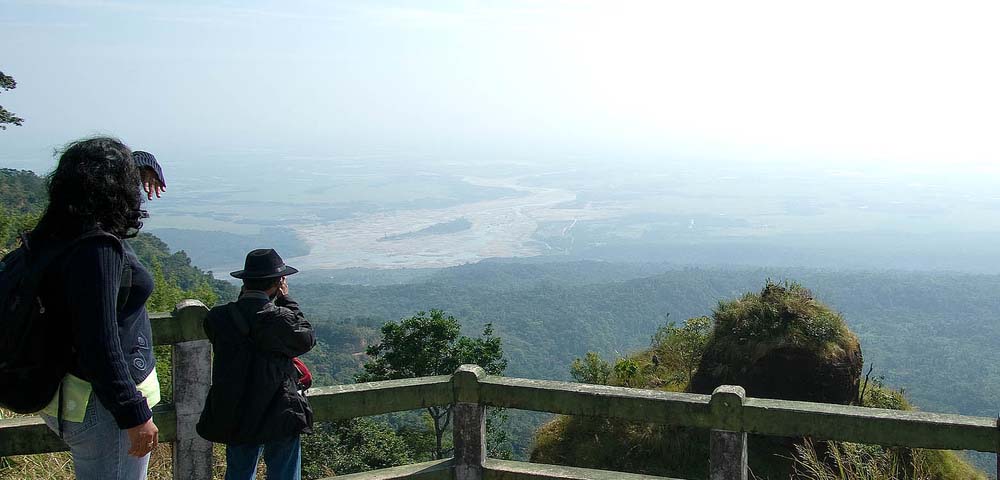 On 10/29 I received a direct message from them on twitter letting me know that I had won the tickets and could pick them up from will call the following night. I paid for parking before I left so that I would know exactly where I was parking. By purchasing the parking online I was able to pay $20 instead of $30. I parked directly across the street from the Microsoft Theater which made getting to the concert very easy. After getting my tickets at will call I headed to my seats which were pretty close to the front. Other times when I have won free tickets the seats haven't been very close I was surprised to find that I had a center seat in row F in the orchestra level. About ten minutes before the concert was supposed to start a couple was walking up the aisle looking to switch seats as the front row was too close for them. I traded my seats for their front row seats.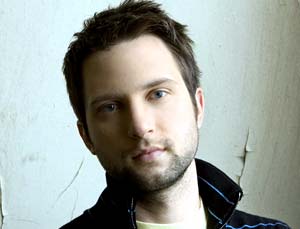 Brandon Heath and Warren Barfield were the opening acts for Third Day. I have previously seen and met Brandon at an album release event at a church. Brandon has a great voice and I love listening to him. I wish his set was longer than it was because his thirty minutes went by too quick. However, Brandon has started playing his songs by request following the concert. After this particular concert he announced that he would do Brandon by request outside of the Starbucks right next to the theater. He just asked that you email him to request songs of his that you don't get to hear in the concert but would like to hear him sing. I was tired after the concert so I didn't go but it seems like a wonderful and intimate mini concert.
Before Brandon came out on stage Warren Barfield came out and talked and sang one song. Then he introduced Brandon and I assumed that Third Day would come out next. I found it odd that Warren would only sing one song but I didn't see why he would come back instead of just doing his whole set after he sang his first song. Regardless of how I thought it should have been done Warren came out to finish his set when Brandon was done singing.
I had never heard of Warren and his music before the concert and I feel bad saying it but I wish that Brandon could have continued to sing instead. Warren comes on very strong and wow is he a talker! To say he spent more time talking than singing is an understatement. By far the most enjoyable part of his set was when he talked about children overseas who need sponsors to help keep them alive and make their lives better. He shared about a little boy that his family sponsored and how after one year that family no longer needed their sponsorship because their help landed that boys family on their feet. After continuing to share of how God uses the sponsorships to change lives he came out into the audience with pictures of children who needed someone to fight for them. It was very moving to watch all the hands shoot up in the air of people who wanted to fight for these children that they have never met before.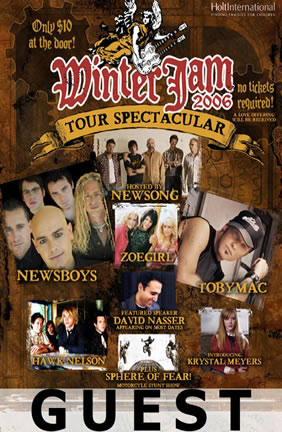 After a short break Third Day came out on stage and led the crowd in a night of worship. Pretty early in their set lead singer Mac said that since they rarely get to come to California he wanted to make sure that we heard the songs we wanted to hear. He took four or five requests from the audience and played a lot of songs from the first album since they were the most requested songs. I really appreciated that they put a pause on the songs that they had planned and catered to what the crowd wanted to hear.
I loved that they put the lyrics to their music up on the screen so that people could sing a long even when they didn't know the songs. The only downside to sitting in the front row was that the screens were not visible to me. I had to turn my head to see the lyrics but since I knew most of the songs it was not a big deal. During this tour Third Day has had Harvest Parker with them as an official member. She has a great voice and in addition to singing with the band she also sang a song that she had written.
She shared that she wrote the song after hearing of two men who lived in Germany that knew of an island full of slaves. The person in control of the island had proudly proclaimed that no missionaries or preachers would ever be allowed to set foot on his island. The men were very upset over the idea that none of the slaves would have the opportunity to hear the word of God. They made the decision to become slaves so that they could go there and spread the word of God. As their ship pulled away their loved ones shouted out "May the Lamb that was slain receive the reward of his suffering." That inspired her to write a song based on what the loved ones shouted and it was really moving.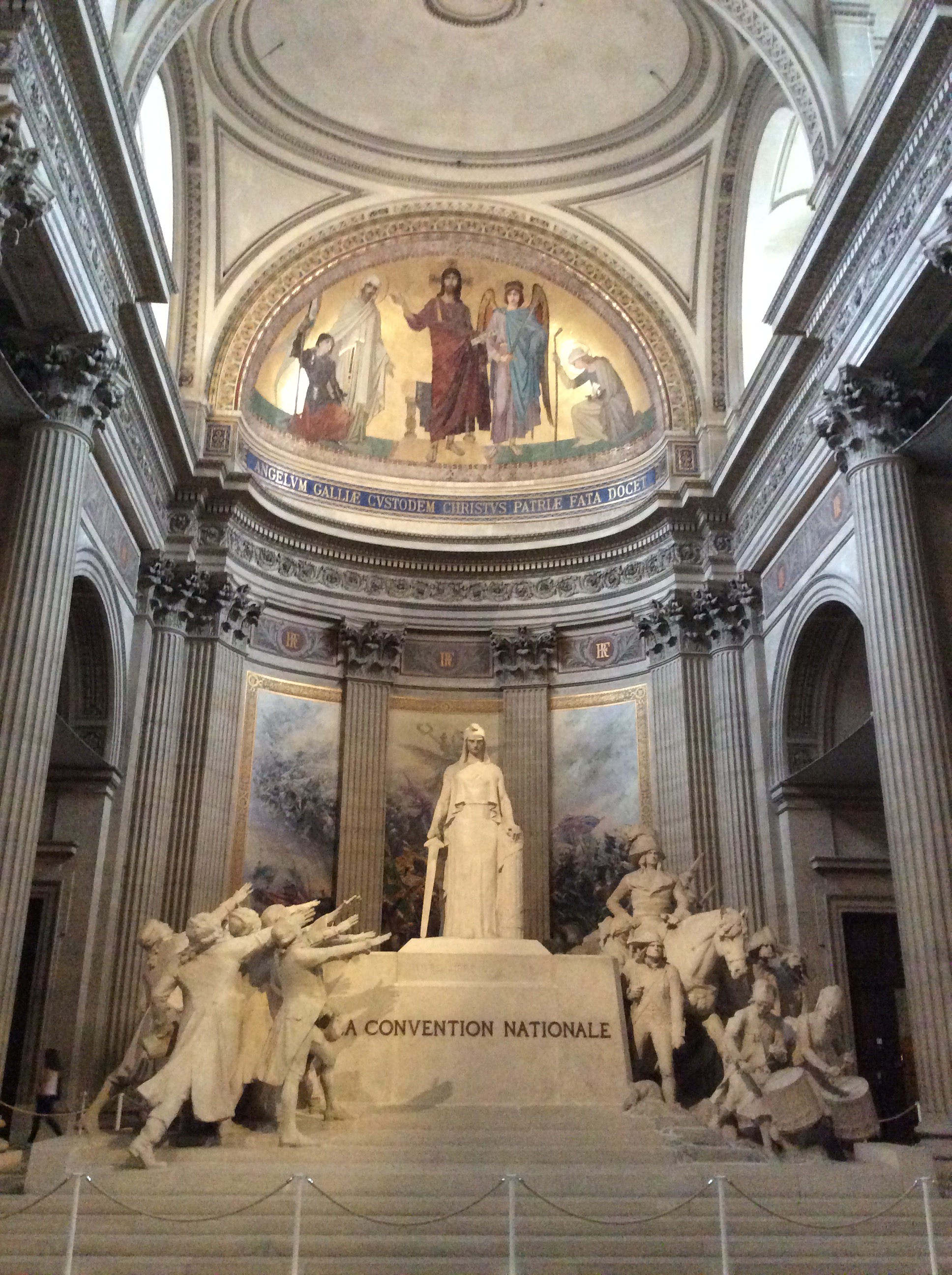 At the end of the concert both Brandon and Warren came out to sing a couple of songs with Third Day. That stage was full of so much talent and full of love for the Lord. The concert was an incredible worship experience and I am so thankful that I was able to go. Because I won the tickets last minute I wasn't able to find anyone who was available to go to the concert but I am so glad that the idea of going alone didn't scare me off. I had no idea that my free seats would be so great and that I would then trade for a front row seat. Please do not let the idea of going to a concert or another event alone keep you from going to something because you never know what God has in store for you.
I got a Third Day guitar pick when they were thrown out to the crowd at the end. The guitar player had been throwing them over my head but he dropped one. I was going to let the girl next to me have it because she had been trying very hard to get one. Surprisingly she told me I could the guitar pick and I was very thankful. The concert was an amazing night for me and I am so grateful to have won the tickets! If you have family or friends that you want to hear about the love of God a Third Day concert is a great place for them to hear some great stories in a fun environment. Some people might be hesitant to go to a church but a concert can be a great way to introduce someone to God.
How can you try and get free tickets too? If you live in Los Angeles keep an eye on 1iota.com for free tickets to Jimmy Kimmel Live's outdoor mini concerts. If you are in New York Good Morning America gives out free tickets to concerts as well. If you are on twitter follow your local concert venues and when they have a retweet to win tickets offer take advantage of it. It worked out pretty well for me. For other ideas on getting free concert tickets please visit: http://mybelleelle.com/how-to/celeb-events/how-to-go-to-free-concerts/
If you are interested in learning more about twitter so that you too can try and win tickets please click here: http://mybelleelle.com/how-to/how-to-use-twitter/