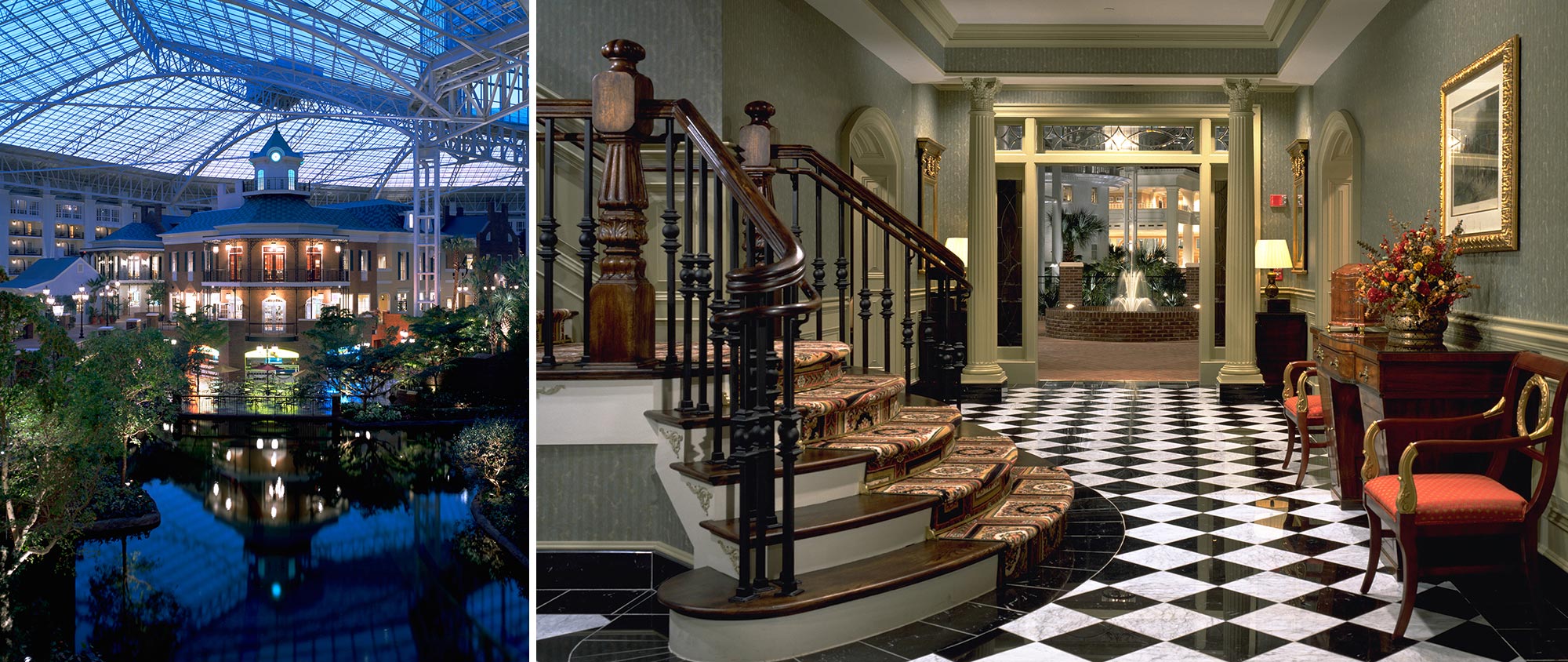 When I lived in Tennessee I always enjoyed going to the Opryland Hotel. Opryland Hotel is located next to the Grand Ole Opry and a shopping mall called Opry Mills. If you are or will be in the Nashville area I would highly recommend that you make a visit to Opryland Hotel. This hotel is more than just a place to sleep. It is an incredible hotel that is very unique. Opryland Hotel makes a great backdrop for photos as my sister can tell you since my Mom took hundreds of her pre Prom pictures here. How many hotels have you stayed at that have a boat ride inside? Or have water falls that you can walk behind? There is so much to see in this hotel that you could spend a whole day inside without needing to leave.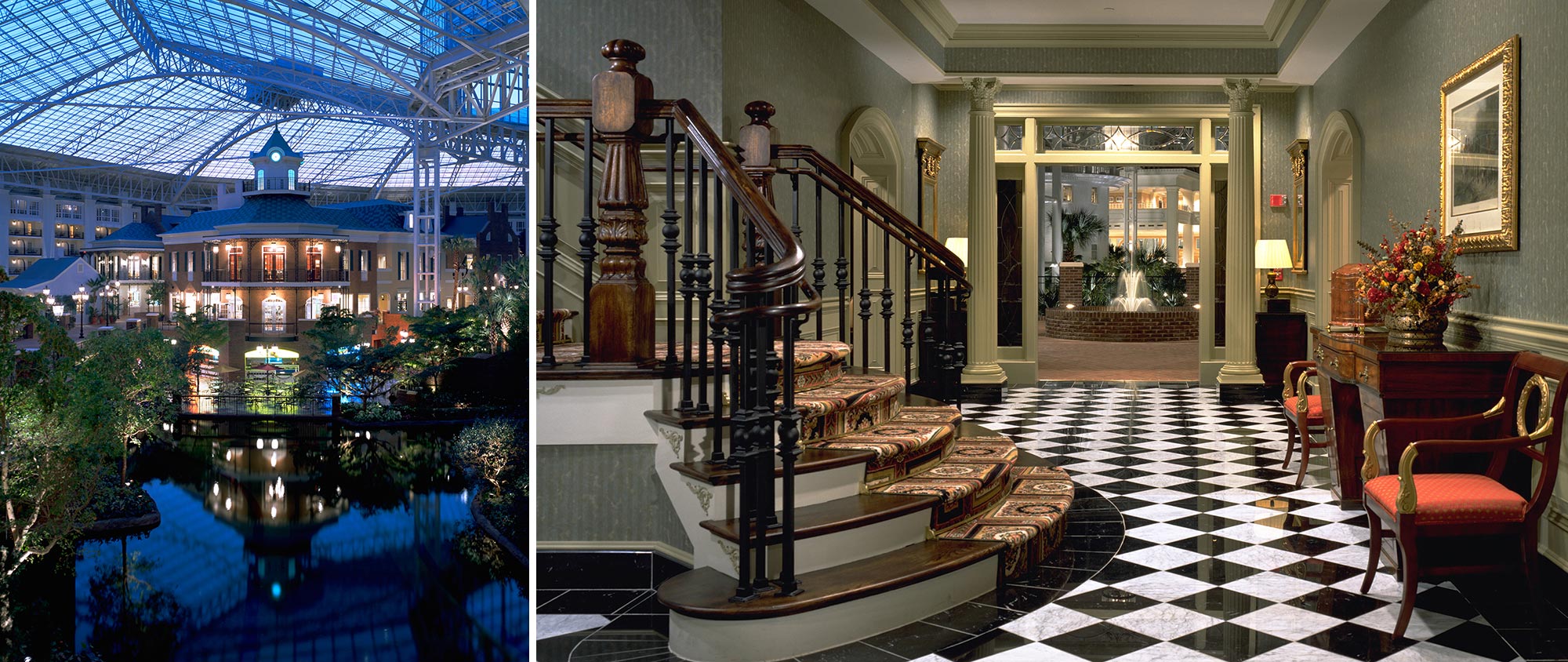 Opryland Hotel is a great place to visit year round but it is even more special with the decorations up for the holidays. They have gigantic and beautiful Christmas trees that are perfect for family photos. There are more lights throughout the property than you can imagine. One year for my birthday my parents took my sister and I on a horse drawn carriage ride throughout the outside of the property. It was freezing but the lights were so gorgeous it was worth it. While the outdoor lights are pretty there are plenty of lights indoors as well which is great because I prefer to be warm.
Unless you are staying at Opryland I would recommend parking at Opry Mills and walking over to the hotel. If you go in the first entrance you come across you will enter the Delta Island which is also where the convention center is. It is in Delta Island where you can take a boat ride, or do some shopping or even get some food. This part of the hotel has food court type eateries where most other areas of the hotel have restaurants. One of my favorite parts about Delta Island are the dancing waters pictured at the beginning of this post.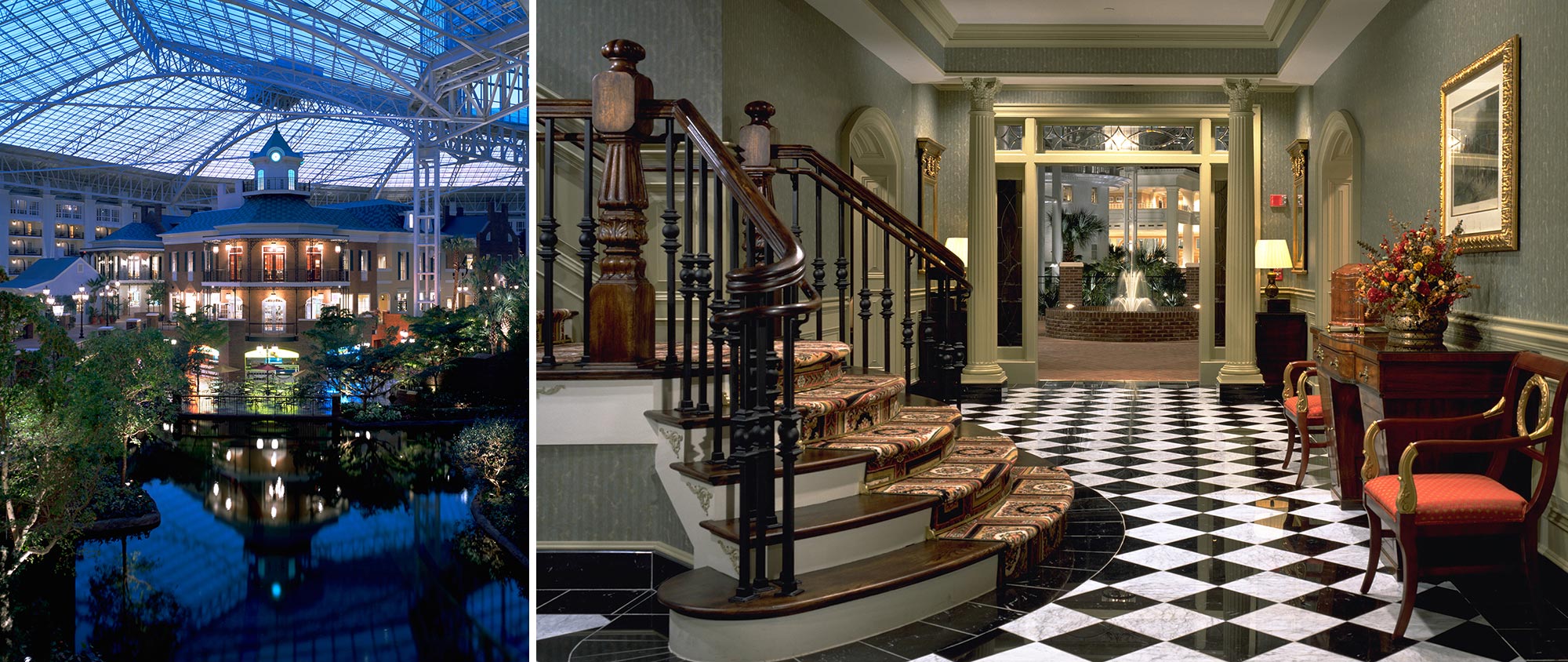 After spending time in Delta Island I like to head to the Cascades. The Cascades atrium features a big waterfall with a walkway behind it. If you stop on the walkway you can look through open widows to see the backside of the waterfall. It is way more impressive than being on the Jungle Cruise at Disneyland and seeing the backside of water. I have never eaten at either of the restaurants in the Cascades but both would be really nice options.
My favorite area is the Magnolia because I find it the most peaceful and beautiful. One of the things that makes Opryland Hotel so fantastic is that they have brought the outdoors inside. When I walk through the lower level of the Magnolia it is like I am walking through a garden or a greenhouse. It is so green and so lovely with waterfalls and flowers and palm trees. The ceiling is covered with glass letting in natural light which adds to the wonderful scenery. This area of the hotel is also the most peaceful and relaxing to me.
Ever since my family moved to Tennessee we have loved visiting Opryland Hotel. Whenever company comes to visit, we have almost always taken them to see the hotel. During my sophomore year in college there was a horrible flood in Tennessee. Since I was going to school in California at the time I only knew of it through my parents. There was a lot of damage throughout the Nashville area and Opryland Hotel was greatly affected by the floods. The hotel was closed for around seven months in order to repair the damage caused by the water. I am so happy that the hotel was able to reopen as I think it is one of the most special places in Nashville.
I am so happy to say that I have had the pleasure of staying here. My sister joined a club in middle school that attended a convention at the hotel and all of the club members who advanced to the state competition got to stay here. After going to Opryland for years I dreamed about getting to stay in the hotel. So I joined the same club as my sister and was able to stay at the hotel quite a few times. Not counting Disney hotels, Opryland Hotel is my favorite place to stay. The rooms are nice and if you can afford the upgrade getting a room with a room with a balcony in the Magnolia area is worth it.
What is your favorite hotel?
Read about my favorite California hotel here: Hotel Del Coronado
For more information about Opryland Hotel please click here: http://www.marriott.com/hotels/travel/bnago-gaylord-opryland-resort-and-convention-center/