This post contains affiliate links. You can read my disclosure policy here.
Audrey Hepburn is someone who I admire not only as an actress but as a person. She has continued to be an iconic figure to this day. I love watching her movies like Roman Holiday, Sabrina and Breakfast at Tiffany's. Last year my Mom and I were shopping and spotted a long black dress at Windsor. I immediately thought of Audrey when I saw the dress. In addition to the dress we found a few other items that I used to create an Audrey Hepburn Breakfast at Tiffany's costume.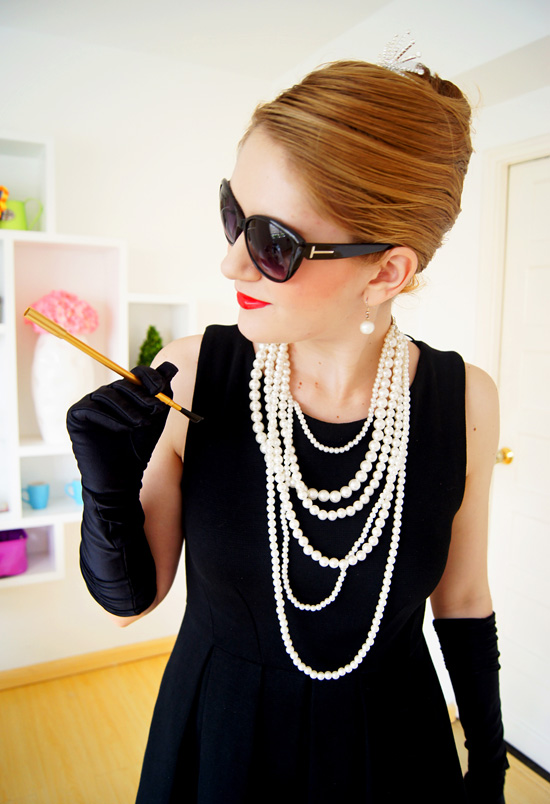 My costume was completed with a long cigarette holder, long black gloves, a mini tiara and a Tiffany's bag. I also added a pastry and a coffee cup when I actually had breakfast at Tiffany's as seen in the picture above. The back of my dress has pearls so I didn't want to add a pearl necklace like Audrey wore around her neck.
As I mentioned above I got the dress from Windsor last year. This dress has been amazing. Not only is it perfect for my Audrey Hepburn costume but I've been able to wear it to events as well. Earlier this year I wore this dress to the Thirst Gala. The dress was around $50. You can always check a thrift shop or Goodwill for a less expensive version.
The long black gloves and the tiara were purchased from Windsor as well. If you do not have a Windsor in your area you can find those items at Claire's or The Icing. The long cigarette holder is from Party City. I already had a bag from Tiffany's. If you don't have one you can purchase green paper and make one yourself. If I ever decide to try to be a contestant on Let's Make a Deal I am definitely going to wear this outfit.
I haven't been too excited about wearing a costume or dressing up for Halloween since I was little. Though I did have a great time dressing up as Minnie Mouse for Mickey's Not So Scary Halloween Party. I started looking for a non trademarked Halloween costume last year after I kept seeing casting calls that asked for them. It was on my first trip to the mall to look for an outfit that I saw the black dress and decided to recreate Audrey Hepburn's iconic look.
I have been invited to go to the Magic Castle in Hollywood for Halloween this year. The Magic Castle is a private club for members of The Academy of Magical Arts. A fun fact is that actor Neil Patrick Harris is currently President of The Academy. A friend of a friend has a connection who is getting us in and I am very excited. My parents went years ago and have had great things to say about it.
I have been told that you cannot take pictures beyond the lobby but I will be sure to take pictures of what I can and share all about the experience. The Magic Castle has a strict dress code and while I'm not sure if it changes for Halloween I don't even have to worry about it. For dinner women must wear a dress, elegant skirt and/or blouse or a pant suit. I think my Audrey outfit will be perfect for the occasion.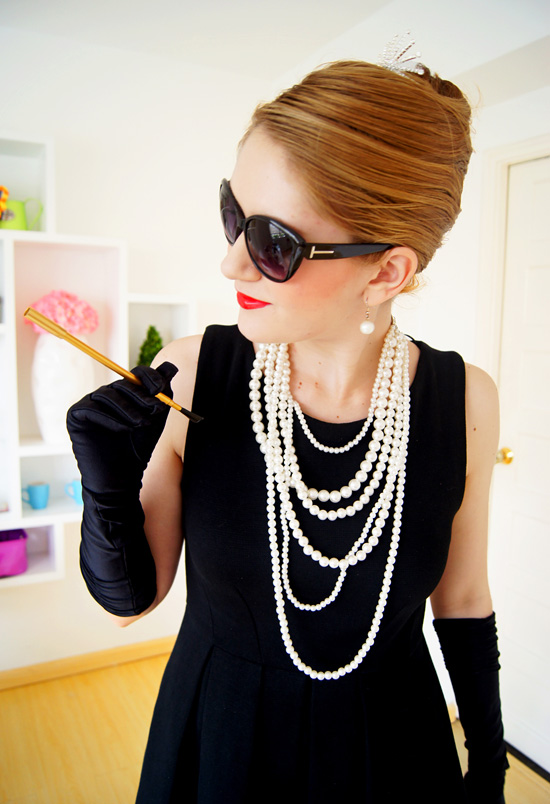 Is there an iconic celebrity that you would like to dress up as for Halloween?