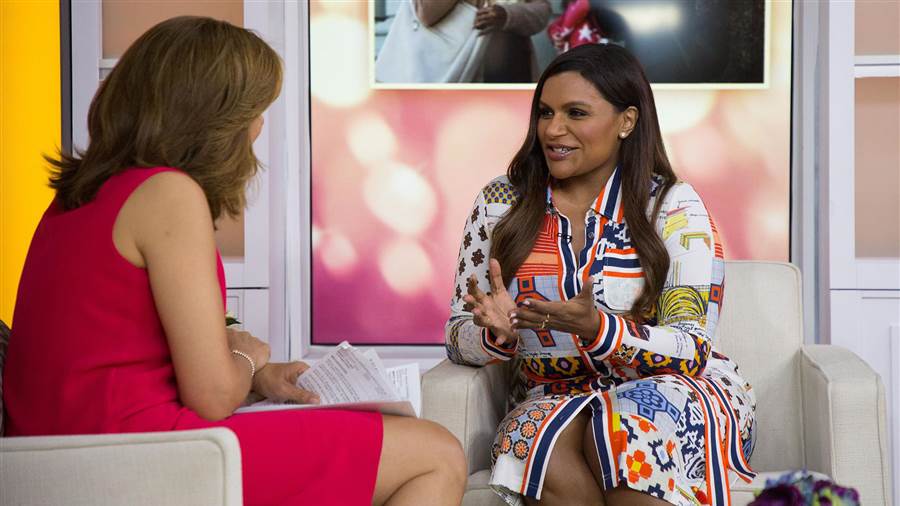 I know Mindy Kaling from her supporting role in the Ashton Kutcher romantic comedy No Strings Attached. Most people who know Mindy recognized her from either The Office or her own show The Mindy Project. Mindy recently released her second book Why Not Me? which has already become a best seller. Her show is currently filming on a soundstage a Universal Studios in Hollywood so if you take the tram tour you might get lucky and see her while she is on her way to set.
Mindy's book tour was announced via social media a little over a month ago and had a fair amount of appearances at book stores for signings. On September 28th Mindy was scheduled to do a book signing in New York but due to a change in her work schedule Mindy changed the location of the signing. I found out on September 25th that her book signing had been changed to Barnes and Noble in Huntington Beach, CA. I am unable to attend her book signing at The Grove in October so I was excited to get to see her on the 28th.
I was really excited that the signing was in Huntington Beach because the Barnes and Noble there has free parking which I love. I got to the store at 8:15am in order to get a wristband for the signing when the store opened at 9am. Barnes and Noble announced that they would have a limited number of wristbands for the signing. I would say there were around 40-50 people ahead of me when I got there. I was able to get a wristband and I would say at least one hundred people were able to get wristbands as well if not more. There were a lot of people there when the signing began at 7:00pm.
When Mindy showed up she made a short but sweet speech and starting signing books almost the moment she took her seat. If you would like to see what she said click here. Unfortunately, Mindy did not personalize the books but she autographed them and was willing to take pictures with anyone who wanted one. They did not allow you to get the picture taken on your phone but instead had a professional photographer there to take the pictures. We were then handed a card with a website where we could download the pictures from afterwards which I thought was a great idea. And I love how the picture of us turned out!
Mindy is one of the sweetest celebrities that I have met and it was such a joy to speak with her. She seemed so happy to be there and was so kind to everyone that I saw her interact with. I also loved that she let the fans come stand right next to her behind the table because I have been to a lot of signings where they want fans to stay in front of the table. It is just so sweet to see people get really excited to meet their favorite stars. The girl in line in front of me was shaking with excitement and that is one of the best things about book signings is that you can get such a special experience.
What is the best way to find out about book signings? When someone who you would like to meet announces that they are releasing a book make sure to follow them on twitter or Facebook or even instagram because if they have a book tour they will most likely want to promote it on social media. You can also follow Barnes and Noble stores on social media. I follow Barnes and Noble at the Grove in Los Angeles on twitter so that I am always in the know about upcoming book signings. You can also visit the Barnes and Noble website and check for events by author to find out who will be signing books and where.
Typically book signings only take place in major cities and I know that not everyone is able to attend them to either due to their schedules or due to distance. My Belle Elle offers a personal shopping service for celebrity book signings. When available I will attend celebrity book signings in the Los Angeles area to help fans get autographed copies of books written by your favorite authors. I was able to get a fan an autographed book from the Mindy Kaling signing and I was so thrilled to be able to do that. Make sure to check out the books autographed by celebrities page to see what upcoming book signings I will be attending.
Lets connect on twitter: https://twitter.com/lovemichelle89
Also make sure to never miss out on a blog post by signing up for email notifications on the right hand side of this page.