Last fall I visited Venice, Italy with my Grandpa when we went to Europe. I was exhausted trying to figure out where to stay in Venice that was affordable but also looked like a place that I would actually want to stay at. It was quite a challenge to say the least so I decided to ask on Facebook if anyone could recommend a hotel in that area. Thankfully I had a friend recommend the Hotel Panoroma which turned out to be such a huge blessing and ended up being my favorite place to stay in Europe. From the room we could see St. Mark's Square across the water and had a water taxi stop directly in front of the hotel. I was thrilled that once we got off the water taxi we wouldn't need to wander looking for our hotel. We traveled by train from Rome to Venice and got tickets for the water taxi just outside of the train station.
We were able to look at the map on the boat dock and figure out which boat number to look for to take us to our hotel. Once on board the water taxi I stayed on the top level so that I could take pictures and see the sights as we made our way around Venice. This city is so unique and so amazing that I hope that you all will have the opportunity to see it and explore it someday. From the time that we boarded the water taxi it took around thirty to forty five minutes to get to our hotel. There are multiple routes to take to get to the hotel but we chose the most direct which saved us a lot of time. I was very excited when we passed St. Mark's Square but I was even more excited when I could see our hotel.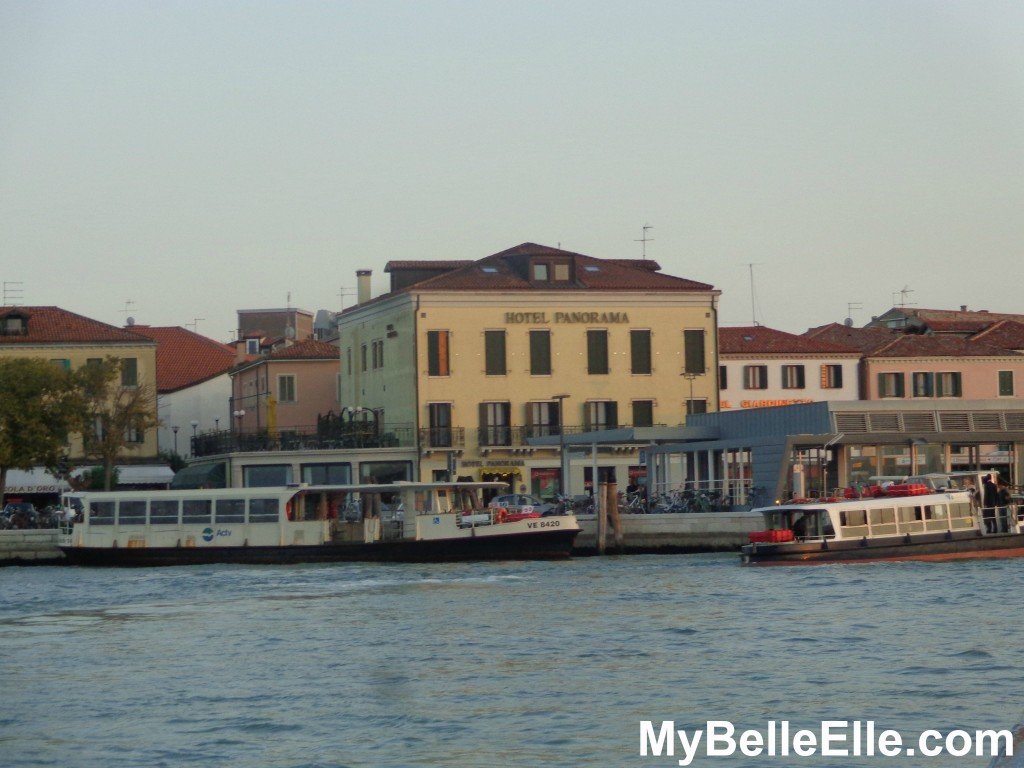 Check in at Hotel Panorama was very quick and easy but the elevator they put you in to take you up to your rooms is so tiny that your luggage cannot fit with you. It was in that elevator that I started to wonder if I am claustrophobic so after that I insisted on taking the stairs. The hotel itself is only three floors so it wasn't like taking the stairs was a chore. I was thrilled that we were given a room that overlooked the water and in the far distance we could see St. Mark's Square. Some things I remember about the room itself is that you tapped the room key against a pad to get the door to open and if you wanted any lights to be on you had to insert the room key into a slot and then turn the lights on. The bathroom is a decent size and the room size is very typical for Europe. The workers at the front desk are so kind and full of information.
They helped us figure out when we would need to leave in order to catch a train to visit the city where my dad was born. They also offered us plenty of information about Venice and be sure to stop at the desk and leave your key when you are heading out for the day. Just behind the front desk is a dining room where the complimentary breakfast is served. The breakfast options were really great and you have a nice view from almost any table in the room. If you walk out the front entrance of the hotel and turn to the left you will come upon a pizza place. We ate there on the first night and it was pretty good. We ordered an American Pizza which was a cheese pizza topped with french fries. It was something different but also a memorable meal. There is a delicious gelato shop if you walk to the street past the pizza place and turn left. It is located on the left side in between various shops and restaurants.
We were only able to book the Hotel Panorama for two of our three nights spent in Italy since they were sold out on our last night. We were so sad to leave this hotel because not only was it one of the most affordable places we stayed at, it was comfortable, clean and had such a great location. If you are planning a trip to Venice this hotel is definitely one to be considered. My grandpa and I did go on a gondola while we were in Venice. I have attached two links to two short videos taken from the gondola. Ciao!
For more information on the hotel please visit: http://www.hpanorama.com/en/
Gondola part one: https://www.youtube.com/watch?v=MRbJStlHNjs
Gondola part two: https://www.youtube.com/watch?v=YzqcgG04ZEQ