This post contains affiliate links. You can read my disclosure policy here.
Is it true that you can get free tickets to a taping of Fuller House? You got it dude! Starting in March the third season of Fuller House will begin taping at Warner Bros. Studio in Burbank, California. You can get Fuller House tickets through a company called audiences unlimited. They also give out tickets for shows like The Big Bang Theory. Tickets for shows are posted Monday through Friday between 8am and 8:30am pst. Fuller House tickets tend to run out within 5 to 20 minutes of being released. Tickets are posted thirty days before the show is set to tape. At the bottom of the post I have listed the dates of upcoming tapings as well as the date that the tickets should be made available.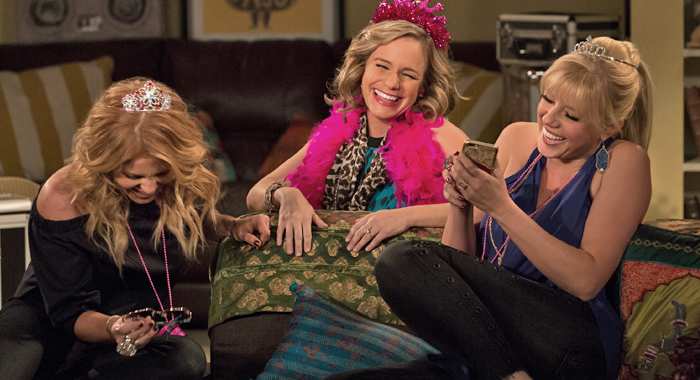 Here's some helpful information that I have learned from getting Fuller House tickets myself. When you go to the website you can click on the 30 day schedule and then click on any show to pull up an order form. The order form is the one you want to keep refreshing on your screen between 8am to 8:30am. On occasion tickets will be posted late so don't freak out if 8:30 comes and still no tickets are posted. Sometimes the tickets don't get put up until 9am. When the tickets finally become available in the dropbox this is the quickest way to get them.
For popular shows like Fuller House saving a couple seconds can make it possible to get tickets for your whole party. Please note that you can only request one ticket at a time. If you do not have the contact information for all members of your group put your own address and email in the boxes. I have since learned that it is not required to provide your contact information but I would encourage you to do so because if taping times change you will be notified.
It is best to know ahead of time who you plan to bring with you because you will need to put their name on the ticket. However, in the faq section of the audiences unlimited website it does say that you can email them about changing the name. Just make sure to reach out to them about changing a name more than 24 hours before your taping date. Once your request has been processed you will see your ticket for the taping. If you are on your computer go ahead and print it out. If you are unable to print out the tickets it is not the end of the world. They keep a list of all of the people who got tickets. If you are over 18 years of age they will want to see a valid photo id when you check in.
Parking is free at the address listed on the tickets. The waiting area has benches, restrooms, vending machines. You will be waiting inside the parking structure so you won't be out in the sun. If possible I highly encourage bringing snacks and something to entertain yourself.
How early should you plan on being there? It is completely up to you but the tickets state that having a ticket does not guarantee that you will get in. You are admitted on a first come first serve basis. Priority ticket holders and invited guests of the cast are let in to the taping first followed by general ticket holders. The earlier you get there the better chance of you have of making sure that you get in.
This does mean that you could spend the majority of your day waiting in a parking garage. Unless you have priority or VIP tickets you will need to arrive early. Last season people began lining up as early as 6am. I'm not saying that you should necessarily get there that early though. 11-11:30am would be the latest I would plan on arriving but it is totally up to you. Just remember that you are not guaranteed to get in and it is a first come first served set up with general tickets.
As the tapings get more and more popular fewer fans are able to get in. At some tapings less than 10 fans were let in due to how big the VIP lists were. If you are unable to get into the taping the ticketing company will try to get you tickets to a future taping. However, if you are not local that doesn't do much to help you. If you are traveling from far away for the taping I would encourage you to arrive as early as you can to help increase your odds of getting in.
When I hear how early people are lining up for season three tapings I will update this post. If you don't want to get there that early you can always try to win priority tickets from the Audiences Unlimited twitter account. My friends and I have had a lot of luck with this. Now priority tickets still don't guarantee that you get in but you get to show up later and will be let in after the VIPs and before the general ticket holders.
Unfortunately, cellphones and cameras are not allowed inside the taping. It is strongly encouraged by the audiences unlimited team for you to leave your phone in your car. However, for those who do not drive to the taping they will hold on to your phone and id for you during the taping. They search your bags twice and make you walk through two metal detectors so there is no way to try to sneak one in. For some reason they no longer allow fans to bring Full House or Fuller House dvds or cast pictures inside the soundstage to try and get autographs. I was able to get two autographs but only on plain notebook paper. Always try & come prepared with something for them to sign and make sure to have a sharpie or a pen. Once the taping ends make your way to the front row to try and meet the cast.
Speaking of coming prepared it can get cold on sound stages since they want to try to keep the actors and equipment cool from the hot lights so it is recommended that you bring a jacket. Also bring snacks because you will get hungry even if you eat a big meal before hand. They do give you half a sandwich and a small water bottle which is better than nothing but still isn't filling.
How long do the tapings last? 5 hours is pretty standard though one episode I watched last for seven hours. You are expected to stay the entire time so please don't go to the taping if you have other plans that same night. The audience warm up guy talks throughout the taping when they aren't filming to keep everyone entertained. He can be really annoying but he gives out gift cards and sometimes autographed items so it can be worth it to listen to him.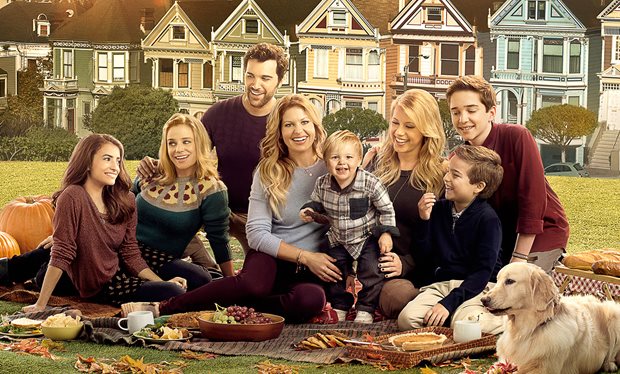 Like my shirt? You can find a similar one here
I went to two tapings during the first season of Fuller House. The very first taping I went to had to be rescheduled so if you plan on flying in for the taping please know there is a chance it can be rescheduled. It was around 3:00pm when I finally got to take a seat in the soundstage and I could hardly believe that I was about to watch a taping of Fuller House. I grew up watching Full House and it has been my favorite show for so many years and I would have never imagined that I would get the chance to come and see the first taping of its spin off show.
If you are looking for some food close to Warner Bros. after the taping I highly recommend Bob's Big Boy which is less than three minutes from the studios. If you get to go to a Fuller House taping I hope it is a dream come true like it was for me. If you have any questions about the taping or getting tickets please ask them below and I will answer as quickly as possible.
Get your tickets here.
Season 3 Taping Dates:
March 16th – Tickets are no longer available
March 24th – Tickets are no longer available
March 31st – Tickets are no longer available
April 13th – Tickets are no longer available
April 21st – Tickets available March 22nd
April 28th – Tickets available March 29th
May 12 – Tickets available April 12th
May 19 – Tickets available April 19th
May 25 – Tickets available April 25th