This post contains affiliate links. You can read my disclosure policy here.
The other day my Mom asked me what I might want in my stocking for Christmas. I instantly got an idea to put together a list of 20 stocking stuffer ideas for a 20 Something Woman. I have included some of my favorite things in the collage below. Most of them are small which makes them perfect for stocking stuffers.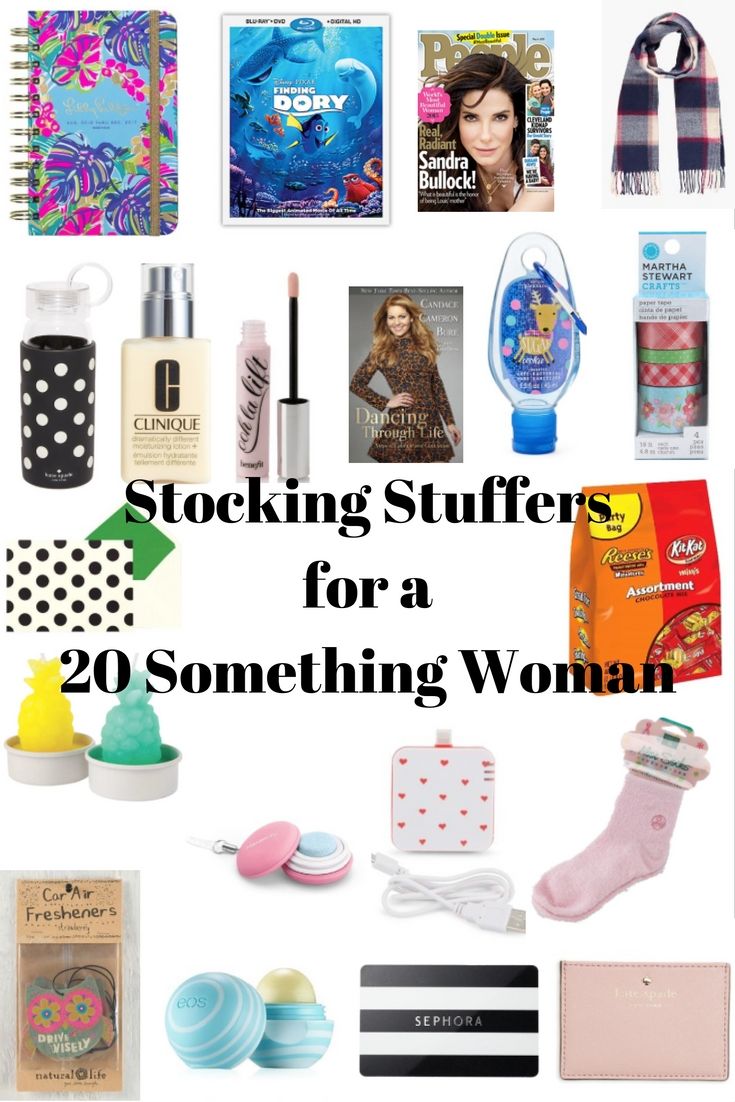 1. A Planner – 2017 planners are everywhere right now. I love the print on this Lily Pulitzer one. You can find a planner for every budget. If you want a small and inexpensive one Target has some really cute ones.
2. A Card Holder – My sister gave me a Kate Spade card holder for Christmas a few years ago. I absolutely love it! A lot of events that I go to won't let in big purses or bags. The card holder is the perfect size for small purses. It is also wonderful for traveling.
3. A Water bottle – I love to drink water so I really enjoy getting cute water bottles. I am a big fan of this Kate Spade water bottle which I use often.
4. A Scarf – Charming Charlies is my favorite place to get scarfs from, but other stores like Target also have great options. Most scarfs are inexpensive and really cute. Plus, they can roll up small which is perfect for stockings.
5. Hand sanitizer – My favorite place to get hand sanitizers from is Bath and Body Works. Hand sanitizers are in my stocking every year and I always love it! I keep one in every single purse so I can never have enough.
6. Lip Balm – The Vanilla Mint EOS Lip balm is one of the my favorites.
7. A Candle – I love getting candles. Especially ones that smell good. How cute are the pineapple candles?
8. Note cards – I love writing cards to my friends so it's always nice for me to see note cards in my stocking.
9. Washi tape – So many of my friends love using washi tape for diy projects. They can be found at stores like Michaels and Hobby Lobby and come in some really fun colors.
10. Gift Cards – My Mom always puts great gift cards inside of my stocking. What gift card you decide to buy will depend on who you are shopping for. Barnes and Noble, Target and Sephora are always good options to keep in mind.
11. Lotion – I love finding any type of lotion inside my stocking. My favorite type of body lotion to get is Vanilla Bean Noel from Bath and Body Works. I also love using Clinique's moisturizing lotion for my face.
12 A magazine – I always look forward to the end of year People magazine. Any magazine with Leonardo DiCaprio on the cover is always welcome too.
13. Candy – I love getting Reese's or Hershey Kisses in my stocking. You can never go wrong with a little bit of their favorite candies.
14. DVD – Since I love movies there is always at least one DVD inside my stocking. Finding Dory was one of the most loved movies of the year and it is finally on sale. Black Friday is a great way to load up on inexpensive DVDs.
15. Make Up – Both my Mom and I love using Ooh La Lift from Benefit Cosmetics. It is an under eye highlighter. It can be found in make up stores like Sephora.
16. Socks – My favorite socks to get in my stocking are the soft ones with aloe. They can be found at Walmart for less than $5. I love wearing them when I'm on an airplane. They are also great around the house.
17. Screen cleaners – Both screen cleaning cloths and disposable wipes are great.
18. A Car Air Freshener – Did you know Yankee Candle sells Christmas Cookie air fresheners for your car? I also like the scents that you can get at Bath and Body Works.
19. A Portable charger – Most 20 somethings are on their phones a lot. Portable chargers are very helpful when you are away from home and the battery on your phone is dying.
20. A Book – Reading is a big passion of mine so I love getting books. As a Full House and now Fuller House fan I love reading the books written by Candace Cameron Bure.
If you are feeling stuck on stocking stuffer ideas I hope this has provided you with some inspiration.
What do you like getting in your stocking?