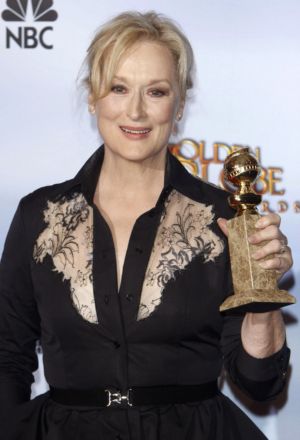 The first major awards show of 2016 is almost here with the Golden Globes airing live on Sunday, January 10th. The Golden Globes will be held at the Beverly Hilton Hotel in Beverly Hills, California. A few years ago I was blessed to get to go to the red carpet for the Oscars. Ever since I had that incredible experience I have been trying to figure out how fans like myself can go to the red carpet for other award shows. Unfortunately for the Golden Globes they do not have fans sign up to get picked to sit on the red carpet bleachers. If you want to go to the red carpet for the Golden Globes it will cost you a pretty penny. The tickets for the red carpet are included in a hotel package that requires a two night stay and as of last year it was estimated to cost $2,500 to $3,500. Just because that it out of most of our budgets doesn't mean that we still can't a fabulous Golden Globes Party.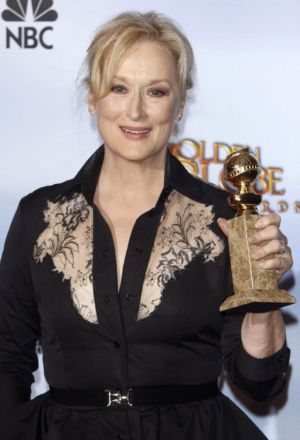 If you and your friends love watching award shows it can be fun to do it together. Throwing a Golden Globes Party can be as simple or as extravagant as you wish. When it comes to creating an invitation to get the word out about a party I like to use a website called Canva. Canva is a useful website where you can create various items like invitations or advertisements and more. All of the graphics used in this blog post were created using Canva. I have never paid for any of the designs from Canva but if you want to use any of the premium designs it will cost you. Once you have created your invitation you can print it out to send out in the mail. If you prefer to avoid snail mail you can send the invitation through email, Facebook or even through a text message. If you would like to use the invitation I created you can access and edit it here: Golden Globes Invitation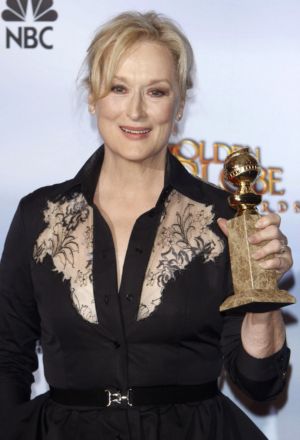 I would recommend having some kind of food at your Golden Globes Party. A veggie or fruit tray is always a good choice or you might have go to appetizers that are easy to make. Regardless of what you make you can add to the theme of the night with cute cards to place next to the food. I am providing a link to the above picture on Canva where you can edit it to have it say whatever you like. Click the link right here: Food Card. When I wrote my post on ideas for an Emmys party I tried to suggest themed snacks based off of the nominees. However, upon looking at the nominees for the Golden Globes I decided to focus on more basic ideas.
I do have a few suggestions if you are looking for some Hollywood themed snacks to serve at your party. Popcorn is often a popular treat for watching movies and a popcorn bar is a fun idea that is pretty easy to set up. Put the popcorn in a bowl and have some more bowls with options like melted butter with different seasoning options or candy like m&ms or chocolate chips. Really anything you and your friends might like in your popcorn would be a good fit. I have a soft serve ice cream maker so I like to set that out with toppings. Hot dogs are an option too if you are looking to serve some "award wieners". You could write "Best Dog in a Supporting Role" on the food card. If you like cupcakes you can print out small pictures of your favorite actors and glue toothpicks to the pictures. You can stick the print out in the cupcake and just like that you have Hollywood themed cupcakes. For more party food ideas I would highly recommend taking a look around Pinterest.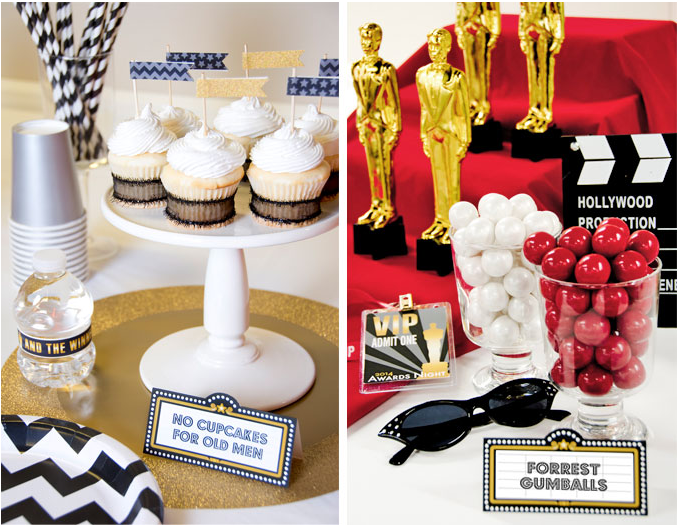 When it comes to food as well as decorations you can do as little or as much as you want. If you and your friends love taking pictures it might be fun to make some props that they can use to take pictures. I decorated the table in the picture above using what I had around my house. If you have any movie posters in your home you could temporarily move the movie poster to the food table to go along with the movie theme. I wanted to create something that said Golden Globes that I could hang. After doing some brainstorming I decided to cut circles out of cardboard boxes and spray paint them silver. Then I cut out white circles and spelled out Golden Globes using glitter and attached the circles to black & white polka dot ribbon.
I set out my Titanic movie poster with a Breakfast at Tiffany's picture and a few other movie/Hollywood themed decorations I had. For Christmas I got two sparkly silver Kate Spade placemats which fit perfectly with the theme. Since my friends and I love ice cream I set out my soft serve ice cream maker. I had brought out my film reel that normally hangs on a wall in my bedroom planning to place it on the table as decoration. Once I set it on the table I realized it would be perfect for holding cups, silverware and the ice cream toppings.
I saw an adorable picture on Pinterest of a white napkin folded up to look like a tuxedo jacket. I googled how to do it and the process was so simple. I have bow ties that fit on straws so I put a bow tie straw and placed it inside the napkin. Since I already have white napkins this is a fun addition I could add to a Golden Globes Party for no additional cost. To make the tuxedo napkin you will want to unfold the napkin and make a triangle. You will want to fold backwards one inch at the top of the napkin. Then bring both ends of the napkin to a point at the bottom with them overlapping. Finally fold the bottom and side points to the back and you are all done.
If you would like to add some decorations to your party but do not have many items around your house to use I would recommend going to any of the following stores: Walmart, Target, Michaels, The Dollar Store and Party City. For balloons the best place to go to is The Dollar Store. Growing up I had a lot of movie themed birthday parties and my parents and I always found great items at all the stores that I mentioned.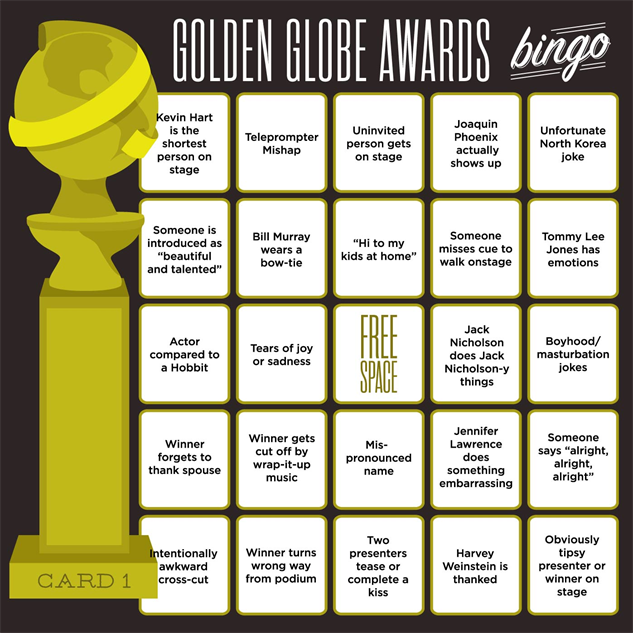 One of my favorite things to do when watching award shows is play bingo. Last fall I learned how to put together bingo cards on Microsoft Word and I had a great time creating bingo cards for Golden Globes Party. Bingo can be fun to play even if you don't have a party but plan on watching the show. There are inevitable things that happen at every awards show and I tried to include most of those in the bingo cards. I have loaded up two separate documents containing two sets of bingo cards each. There are four different bingo cards altogether and can be printed out by clicking on the following links. 2 Sets of Golden Globe Bingo Cards
2 Different Sets of Golden Globe Bingo Cards
I hope this post has given you some ideas for a Golden Globes Party.