I first began my career with The Walt Disney Company in 2010 when I worked at The Disneyland Resort for the summer. Once school started again I moved back from California to Tennessee so I could finish my last year of college. I had every intention of moving back to California once I graduated school but that ended up not working out at that time which led to me consider applying for the college program at Walt Disney World. My hope was that I could work in the entertainment field for eight months at Walt Disney World before making the move out to California. Unfortunately, entertainment options for college program participants are very limited so I ended up accepting a position as an attractions hostess not knowing which park or attraction I would work at until I arrived.

Less than two weeks after I graduated from college I moved into Patterson Court which is one of the four housing options for college program participants. I was in a six person apartment with two girls per room with a shared kitchen and living room area. Moving is was a bit of a nightmare because I was on the third floor with no elevator and I was by myself. So I brought my two 50 lb luggage pieces up to the third floor only to find out that I had been directed to the wrong building and would need to repeat the same process. If possible please do not move in by yourself as it is not a fun experience. A few hours after I moved into my building everyone loaded onto buses to head over to the casting building to complete the arrival process. It was there that I found out that I would be working at EPCOT on the Living With the Land boat ride & The Circle of Life Environmental Fable.
I did the fall advantage college program which meant that I was there from May 2011 to January 2012. I have very mixed feelings about the Walt Disney World college program because while I was miserable at work I was very blessed with the friendships that I made. Of course I knew that since I had come out to Florida for a job I would be working. I could have never imagined just how much I would be working though. On an average week I worked fifty to sixty hours and sometimes over sixty hours. More often than not I had one day off a week which was spent doing laundry or going to the grocery store and left very little time to explore or enjoy being at Walt Disney World. Not all college program participants will work the same amount of hours as it depends on the needs of your area so some will work forty hours or less and others will only have time to work, sleep and eat.
Rent is taken directly out of your paycheck which is convenient because I never had to worry about remembering to pay it. It was very disappointing to me though that college program participants were not given holiday pay and yes I worked every single holiday. My family came to visit me twice and while I got a tiny bit of time off for their first visit I was given no time off on their second visit and worked twelve to fourteen hour shifts on average, sometimes longer, while they were there which meant very little time with them. I wasn't acting like my typical happy self because of how exhausted I was.

I did not have a car while I was there which meant that I would take the buses that Disney provided to work which could mean leaving as early as an hour and half before my shift started to be able to get to work on time. Depending on when I got off work I would have to wait for two or three buses to stop at Epcot before I could manage to get on and go home. There were some days that my hours working & commuting added up to 18-20 hours.
Not only was I feeling over worked and under paid but I was treated so poorly by the guests that visited the Land that some of them even made me cry. It certainly was nothing like my experience working at The Disneyland Resort the year before and there were a few times where I considered quitting. In the fall I agreed to do the college program at The Disneyland Resort starting a few weeks after this program ended but as I continued to have a horrible experience in Florida I wasn't sure whether or not that was the right move.
By the grace of God I stuck out the college program and I did move out to California the day it ended and did do the college program at The Disneyland Resort which was a completely different experience. After my Disneyland college program ended I stayed with the company for another three years. I have since visited Walt Disney World twice to see my friends and I will always love going there as a guest but I do not want to work there ever again. Now just because I had an awful experience does not mean that you will too but I do want to let you know that working in the college program is not all fairy tales and glass slippers.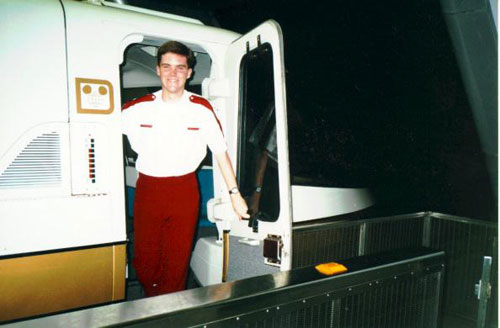 Some of the highlights of my time in Florida were making friends from all over the world. Last September I visited Disneyland Paris and one of my co workers from EPCOT who lives in Spain came and met up with me which was very special. One of my best friends from my college program lives in Australia and I have been very blessed to get to see her at least once a year and we are still very close. One of the best parts about working at EPCOT is that you are a short walking distance away from The Boardwalk Hotel which has an incredible dueling piano bar called Jellyrolls which is free for cast members. Also a short walking distance from EPCOT is the Yacht and Beach Club. This area is home to my favorite place to eat at Walt Disney World Beaches and Cream where the kitchen sink is a must have.
Other highlights include going to see the Yankees play Tampa Bay which was put together through the college program and for around $30 you got a ticket to the game, transportation, and food credit. I was able to get discounted tickets to Mickey's Not So Scary Halloween Party & Mickey's A Very Merry Christmas Party which I have great memories of. For the holidays cast members can get extra discounts at the hotels and on merchandise. Two of my co workers and I all had birthdays around the same time so we decided to put our money together and stay two nights at Bay Lake Towers which is attached to The Contemporary hotel right next to Magic Kingdom. We had so much fun staying there and being able to walk from our room to the park. I just wish I could have had a more free time to explore Walt Disney World but I am grateful for all that I was able to do.
The negatives of my college program experience were getting treated poorly and not just by the guests. Being over worked and under paid, especially on holidays. Like I said earlier everyone has a different experience on the college program so while I hated it other people I know loved it and a lot of that has to do with your work area. If you are thinking of doing the program I would really encourage you to consider doing it at The Disneyland Resort where I had a much better experience which I will blog about soon.
If you want to consider doing the college program in Florida I would recommend staying at Patterson Court because to me it was the nicest which was worth the extra money. Also there is a Publix grocery store within walking distance and you will learn how annoying it is to try and carry groceries on and off the bus if you go to Walmart. I learned to take my suitcase with me to Publix so I could fill it up with my groceries and roll it back instead of killing my arms. I am so sorry that this post had to be so negative but I want to provide an accurate account of my experience in hopes that this will help you in the decision making process.
If you are interested in applying for the college program please visit this link: http://cp.disneycareers.com/en/default/