There is a show on the History channel that you might have heard of called Pawn Stars. I have never had an interest in pawn shops but I have enjoyed watching the show for quite a while. The shop is run by a family and highlights a Grandpa (the old man), Son (Rick Harrison) and Grandson (Corey) plus family friend Chumlee. On the show you see people bring in items that range from who would ever buy that to wow thats really cool. I have seen broken down pieces of junk to items owned by President's or Celebrities and Superbowl rings. The reason that this show is such a great fit for the History channel is that they provide information about the items and I always learn something new.
While my parents and I were in Las Vegas we decided that it might be fun to visit the shop. The name of the store is Gold and Silver Pawn Shop and it is pretty easy to find. There is a small parking lot located on the side of the store and more than likely there will be a line to get inside. Since it is almost always hot in Las Vegas they put misters above where you wait in line to help you keep you cool. We waited less than fifteen minutes outside which was great since it was a warm day. We were all quite surprised by how small the shop is and I was really grateful that they limit the number of people allowed inside at once because it can get crowded really quick.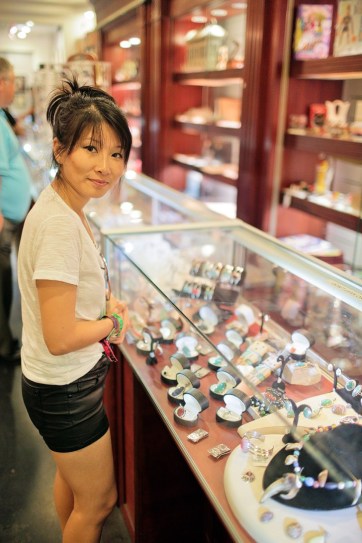 The shop is full of items, some of which were purchased on the show which is notated somewhere on the item, and they also have items perfect for big fans of the show. They have shirts, bobble head dolls and a few other items if you just have to have a memento of Chumlee. We did not see Rick Harrison, Corey, the old man or Chumlee and later found out that they were over at Rick's Restoration filming that day. Even if you have no intention of buying anything it is still interesting to stop by if you have ever watched the show. They have drawings for VIP tours and my mom found out after she was back in Tennessee that she had won. We did not find out what the VIP tour included but if you will be in Las Vegas for at least a few days enter the contest and see what you get if you win! You can see from the picture below that the store is not incredibly big and I can only imagine how cramped it can get when they are filming.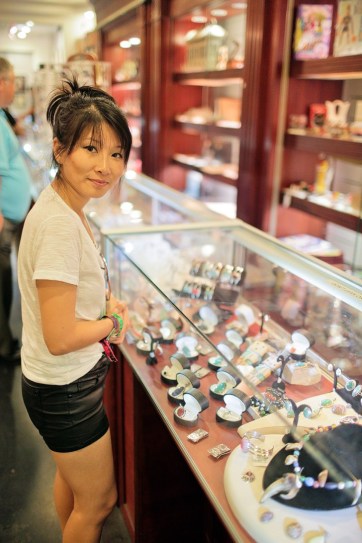 You do not need to plan on spending more than two hours to get there, go inside and look around and get back. If you have time in-between lunch and dinner and have some time to kill this is a fun little adventure. If you think that you have an interesting item that the Pawn Stars might want to purchase and perhaps even showcase on the show there is information on their Facebook page about about applying to be on the show with your item: https://www.facebook.com/gspawnshop
Check out their website: http://gspawn.com
If you are on Twitter you might want to follow them: https://twitter.com/goldsilverpawn